UM-Flint Faculty Member Remembered for Her Devotion to Choral Music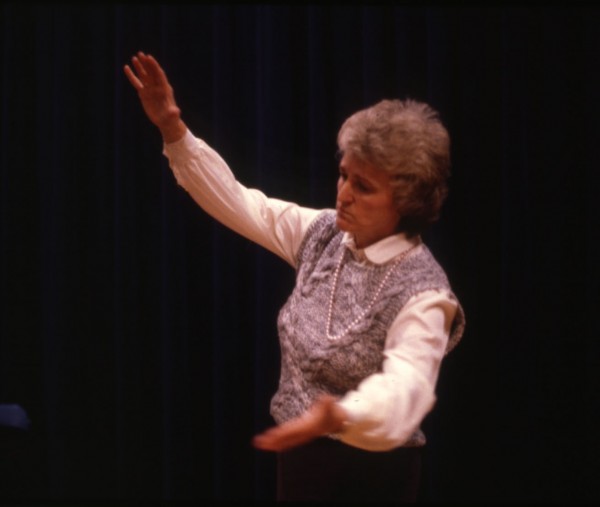 Carolyn Mawby, associate professor emerita of music, passed away after a long and courageous battle with cancer. Professor Mawby was best known for her tireless work in the field of choral music.
After several years of successful teaching in the choral department at Grand Blanc High School, she joined the founding faculty of the Department of Music in 1974.
"In helping found the Department of Music, developing choral groups and continuing to support music programs at UM-Flint and in the community, Carolyn Mawby will be remembered for her steadfast commitment to arts," noted Music Department Chair Brian DiBlassio.
Until her retirement in 2002, she devoted herself to many choral activities, most notably, conducting the UM-Flint University Chorale and the Chamber Singers. She also taught music history courses throughout her tenure at UM-Flint.
"Carolyn Mawby was a unique educator. Her energy was infectious from the moment her rehearsals started, and she was one of those rare musicians that exponentially improved the sound of an ensemble just by being there," recalled Kevin Starnes, '02 music alumnus. "Her loss is monumental to the music community, but her legacy is far greater."
Professor Mawby was very committed to enriching the Flint community through the choral arts, founding the Junior and Senior Summer Academies of Music for middle and high school students, and also founding the Carolyn Mawby Chorale.  Through the collaborative vision of Professor Mawby and the Carolyn Mawby Chorale, the annual Flint Festival of Choirs was established, bringing together area choirs for a weekend of choral music culminating in concerts directed by national and international choral directors.
A memorial service will be held on Saturday, May 10, 11a.m., at the First Presbyterian Church of Flint.
Contact University Communications & Marketing with comments, questions, or story ideas.