School of Education and Human Services students among those honored at LGBT Center's Lavender Graduation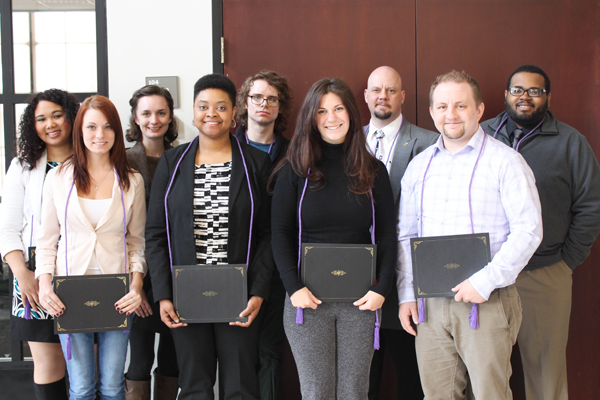 The University of Michigan-Flint's Ellen Bommarito LGBT Center held its first-ever Lavender Graduation on Tuesday, April 15 at the Northbank Center. The ceremony is conducted on numerous campuses to honor lesbian, gay, bisexual, transgender, queer, asexual, and ally students, and to acknowledge their achievements and contributions to the university. Eleven students were honored at the event, including three students from the School of Education and Human Services (SEHS).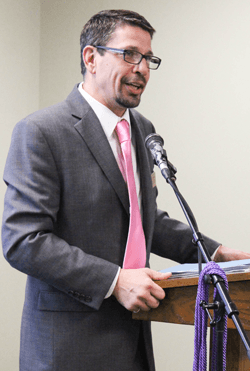 Kristin McBride, a senior graduating with a Bachelor's in Social Work with a minor in Substance Abuse Treatment and a recipient of the Maize and Blue Distinguished Scholarship Award, attended the event. She said, "The event was absolutely beautiful. Having events on campus that celebrate diversity show the community, staff, faculty, and students that we support each other for who we truly are, even if we're different."
Interim Dean of SEHS Robert Barnett gave the keynote address. He spoke about his experiences growing up as the first gay person in his family. "I was closeted and lived in a homogenous, intolerant community," he said. "But I persevered and I overcame challenges, and here I am today, a successful administrator whose core professional value is to help others gain access to the same opportunities I fought for my whole life."
The feedback from the first graduation ceremony has been positive. Jen Salamone, the LGBT Center's program coordinator, is already thinking about the future of the event. "I hope to see it grow in the future with special awards for faculty, staff, and students, and larger participation and attendance," Salamone said. Ultimately she hopes for "increased visibility for the center and the LGBTQA+ students, faculty, and staff, education, and most importantly, celebrating the diversity of all our students."
Contact University Communications & Marketing with comments, questions, or story ideas.