Blood Drive and Memorial Tribute at UM-Flint to Honor 2013 Homicide Victims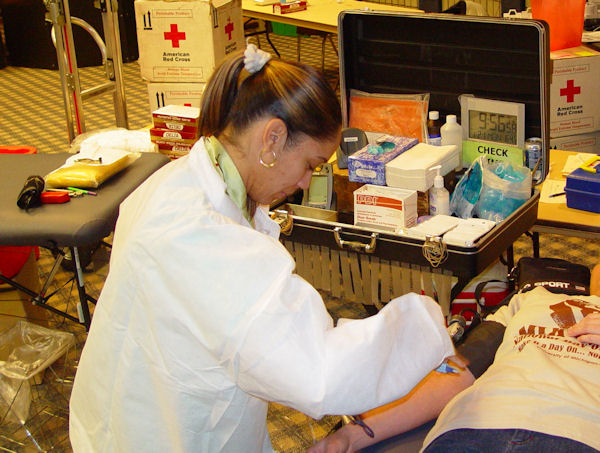 The University of Michigan-Flint and the American Red Cross are joining together for the second year in a row to hold a blood drive and other events to honor Flint homicide victims.
This event is organized by Assistant Professor of Health Education Lisa Lapeyrouse's Health Communication class in collaboration with Colleen O'Callaghan from the Great Lakes Region American Red Cross. The event will be held on March 24 in the Happenings Room, Harding Mott University Center (UCEN).
Donors can attend any time from 11:00 a.m. to 4:45 p.m.
"I personally see the blood drive as an opportunity to unite our campus to the larger Flint community, demonstrating that we are in fact a single community of hope and everyday heroes," said Lapeyrouse.
There were 52 homicide victims in the city of Flint in 2013, a decrease of 22 percent from 2012. Therefore, the class wants to increase the amount of pints of blood donated by 22 percent from last year's record of 81 pints.
"Last year we had an overwhelming turnout from students, faculty, and community members. We raised the goal for this year and hope to collect 95 units," stated O'Callaghan.
Food will be provided, and among other activities, a balloon release will be held at 1 p.m. in memory of the victims.
Per American Red Cross donation requirements, participants must be at least 17 years of age, weigh at least 110 pounds, and be in good health. For additional information and donation requirements please call 1-800-GIVE-LIFE.
To make an appointment to donate blood online go to: http://www.redcrossblood.org/make-donation
ENTER Sponsor code: umflint (case sensitive)
Select: schedule an appointment to donate
or contact Assistant Professor Lisa Lapeyrouse at 810-762-0738. Walk-ins are also welcome.
Contact University Communications & Marketing with comments, questions, or story ideas.