Grant Will Help UM-Flint's Doctoral Nursing Program Create More Nursing Educators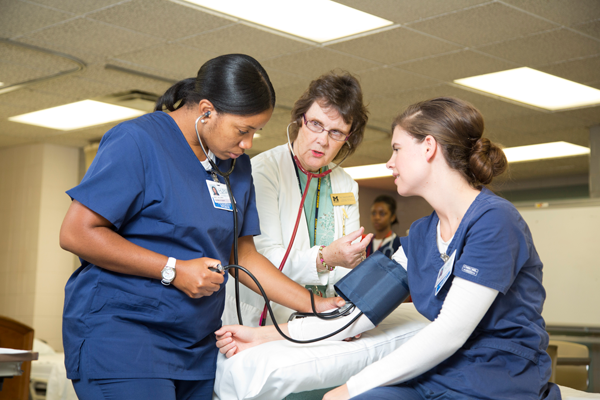 The University of Michigan-Flint has received a grant of $40,000 from the Jonas Center for Nursing and Veterans Healthcare, and with an additional $17,500 of its own scholarship funds, it will provide four doctoral nursing students with scholarships in 2014.
As a recipient of the Jonas Center grant, UM-Flint is part of a national effort to stem shortages of nursing faculty and prepare future nurses as America's healthcare system continues to evolve.
The UM-Flint Jonas Scholars join nearly 600 future nurse educators and leaders at 110 schools supported by Jonas Center programs, the Jonas Nurse Leaders Scholars Program, and Jonas Veterans Healthcare Program. These scholarships support nurses pursuing a Ph.D. and professional doctorates such as the Doctor of Nursing Practice (DNP) degree offered by UM-Flint, the terminal degrees in the field.
Nursing faculty shortages at colleges and universities in Michigan and across the country are limiting student capacity at a time when the need for professional registered nurses continues to grow markedly.
"The graying of the nursing faculty, who are on average 55 years of age, combined with increasing job competition from clinical sites that offer higher salaries are among the key factors contributing to the nursing faculty crisis," said Margaret Andrews, director of the UM-Flint Department of Nursing.
Last year U.S. nursing schools turned away nearly 80,000 qualified applicants from baccalaureate and graduate nursing programs. A special survey on vacant faculty positions revealed that there were more than 1,300 faculty vacancies in 2013, or a vacancy rate of 8.3 percent.
"The funding from the Jonas Foundation enables UM-Flint to educate the next generation of doctorally prepared nursing faculty leaders and scholars. I'm grateful to Drs. Connie Creech and Beverly Jones, project co-directors for the grant. Dr. Creech is director of the UM-Flint Graduate Nursing Programs, and Dr. Jones is a veteran (U.S. Army Nurse Corps) and a nursing faculty member at the university. I'm especially pleased with the funding that will enable UM-Flint to educate graduate nursing students who will conduct research on topics related to improving the health of veterans. I'm confident that they will make a significant contribution when they complete their doctorates and begin teaching and practicing," Andrews said.
"The call for more nurses—and thus the faculty to prepare them—is massive. Healthcare in America has never been more complex, yet tens of thousands of would-be nurses are turned away from the profession each year," said Donald Jonas, co-founder of the Jonas Center. "We've stepped up the pace and expanded our programs to meet this need."
UM-Flint's Doctor of Nursing Practice program graduated the first class of DNPs in May 2013, with 20 nurse practitioner graduates who are poised to improve healthcare in the U.S.  They are educated at the doctoral level as clinical practice experts and teachers, and ready to make a difference.
Contact University Communications & Marketing with comments, questions, or story ideas.