Community Invited to UM-Flint's "Our Engaged Campus" Showcase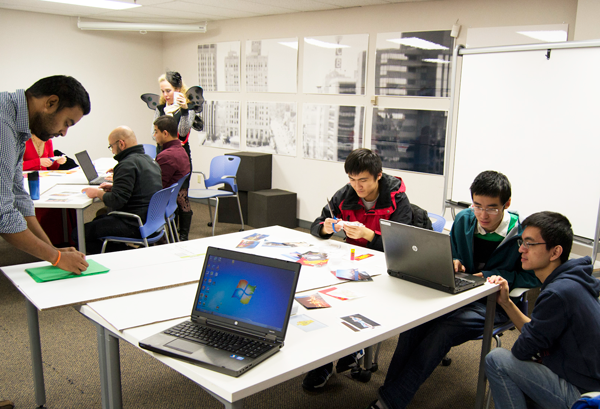 The University of Michigan-Flint is one of a distinguished group of colleges across the country selected by the Carnegie Foundation for the Advancement of Teaching for its Community Engagement Classification. In 2012, the university was selected as the first recipient of the "Engaged Campus of the Year Award" presented by Michigan Campus Compact. Now, UM-Flint is sharing community engagement success stories that illustrate best practices in engaged learning and campus-community partnerships.
The university's proud tradition of community engagement will be highlighted in a special day-long event on Thursday, February 6, 9 a.m.-5 p.m., University Center. The campus and community are invited to attend "Our Engaged Campus: Community Engagement and Outreach Showcase."
"The Our Engaged Campus event celebrates the ways UM-Flint classes, research projects, and programs make a significant difference in the community, and what we have learned about how to do them well," said Mona Munroe-Younis, Program Manager in the Office of University Outreach. "By sharing our experiences with each other, we hope to inspire more collaboration in and with the community, and to further strengthen the region in a transformative way."
The day is filled with a variety of workshops, a film screening, and panel and group discussions that focus on how UM-Flint fulfills its commitment to the public good and what it means for UM-Flint to have the national recognition of the Carnegie Classification for Community Engagement.
"We invite members of the community to join us as we talk about our campus identity and culture, and how to walk the walk of our commitment to community engagement," said Munroe-Younis.
Topics of the presentations range from "The Importance of Community Service" to "Developing Real Community Impacts of Civic Engagement Classes."
Whether you are a community member or a representative of a community organization that wants to engage with the university, or a student, alum, faculty or staff member who wants to engage with the community, the Community Engagement and Outreach Showcase can help make that happen.
Full event details can be found at the Our Engaged Campus website.
Contact University Communications & Marketing with comments, questions, or story ideas.