UM-Flint Theatre Major Wins Big at Regional Competition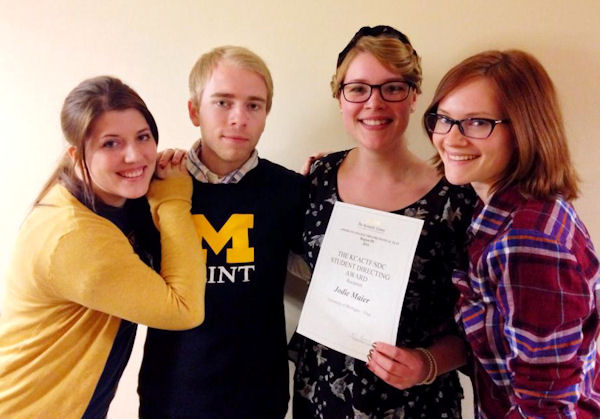 UM-Flint senior Jodie Maier was recently selected as a co-winner of the Kennedy Center American College Theatre Festival's (KCACTF) Region III Stage Directors and Choreographers Award.
Her selection for the award was based on Maier's creative direction of a scene from Jean Baptiste Moliere's Tartuffe, a Neo-Classical French comedy of manners. The process included a presentation of her dramatic research and textual analysis, plus two performances of her scene (performed by UM-Flint theatre students), and interviews with professional directing respondents. Her directing work was selected from a large pool of participants from all across the region, which includes Michigan, Wisconsin, Indiana, Illinois, and Ohio.
"I was really proud of the work we accomplished after hearing the news of being co-winners," said Maier. "The actors in my scene worked extremely hard to help accomplish this collaborative goal. I truly would not have gotten as far if it wasn't for their drive and professionalism in the rehearsal process."
"We are all incredibly proud of Jodie, her achievement, and the acknowledgement of her highly inventive and detailed work," said William Irwin, UM-Flint assistant professor of theatre.
Winning this award will take Jodie to the Kennedy Center in Washington, D.C., where she will represent UM-Flint and participate in week-long master classes with some of the world's most renowned theatre artists and professionals.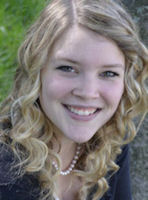 "I learned a great deal about my directing style, the interview process, script analysis, and director/actor relationship just from this progression, and I can't wait until April to do it all again," said Maier. "I am extremely excited to carry UM-Flint's name with me to Washington, D.C."
"Jodie's success at KCACTF is a perfect example of the kind of experiences we want our students to have," noted Irwin. "We want our students to be challenged in diverse ways, challenge themselves, think creatively, work hard, and play hard. To that end, this achievement is a clear designation that we are headed in the right direction."
This year's competition was held at Saginaw Valley State University.
_______________________________________________
Feature photograph by Matt Coggins
Contact University Communications & Marketing with comments, questions, or story ideas.