New Electron Microscope Will Boost UM-Flint Research of Material Properties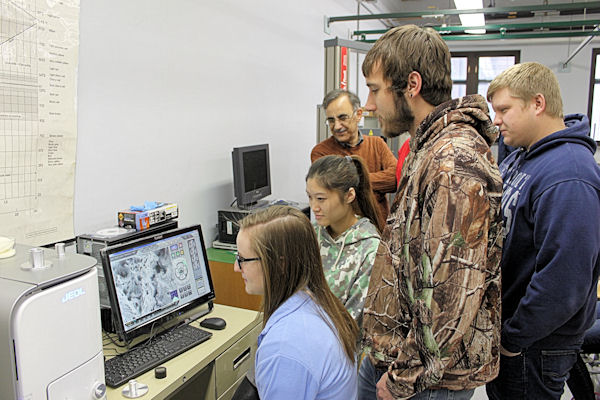 A new Scanning Electron Microscope (SEM) is the latest hi-tech research equipment to be added to the University of Michigan-Flint Engineering Laboratory.
Its applications extend from pure research and teaching to a wide range of industrial uses, including failure and surface analysis. It is a high-resolution instrument (60,000X magnification) that has the ability to observe fine surface morphology at the sub-micron scale.
Students, faculty, and staff training recently began on the $75,000 SEM that will be used in the material laboratory and Senior Capstone Design courses. The instrument will also be utilized to offer undergraduate research experience for both engineering and physics students.
"Every engineering student will learn how to use the SEM," said Professor of Physics and Engineering Mojtaba Vaziri, Ph.D.
The new instrument is more user-friendly than other SEMs. It can be set up and begin yielding results in just a few minutes. It will go into operation this semester.
Contact University Communications & Marketing with comments, questions, or story ideas.