Regents Approve New Vice Chancellor for Business and Finance for UM-Flint
The University of Michigan Board of Regents has approved Greg Tewksbury as the new vice chancellor for business and finance for the University of Michigan-Flint.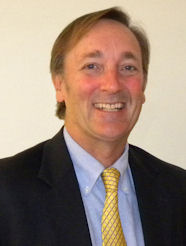 In his position, he will oversee the departments of Financial Services & Budget, Auxiliary & Recreational Services, Human Resources, Purchasing, Facilities & Operations, Public Safety, and Environment, Health & Safety.
Tewksbury, who currently serves as treasurer of the U-M, was selected by a search committee of faculty and staff to fill the vacant position created by the retirement of David Barthelmes earlier this year.
Tewksbury received his BBA from Western Michigan University and his MBA from Eastern Michigan University. He joined the University of Michigan in 1977, and over a 36-year period held a variety of positions ranging from director of the Office of Financial Analysis to interim vice president for finance and treasurer. He was appointed treasurer in 2002.
"Greg brings extensive knowledge of the university to this position, and I am delighted to welcome him as a part of the Flint leadership team," said UM-Flint Chancellor Ruth J. Person.
Some of his experience includes, among other things: consolidation of capital plans for campuses, prioritizing project funding, working with deans and directors on financing cash flow, gifts, debt service, and debt management.
"My strategy for the first 60 days will be to meet with staff, deans, and administrators in order to get a feel for the most critical issues on campus in order to align priorities accordingly. It probably will be like drinking from a fire hose, but I'm the thirsty type," said Tewksbury.
During his tenure as treasurer, he implemented a number of improvements and changes to the universities' cash management programs, including: directing the restructuring of banking services for the university, chairing the University Internal Bank working group, and holding membership to the capital planning committee.
"I consider it a privilege to be part of such a strong team at UM-Flint. I was impressed with those that I met during the interview process," noted Tewksbury. "I am looking forward to leveraging the many relationships I have made in Ann Arbor for the benefit of the Flint campus."
The day Tewksbury and his family came to look over the Flint campus happened to be move-in day for campus housing. It was an opportunity for him to talk to students and others. It was after those conversations that he said he knew it would be a good fit. Everything he heard that day was positive, and what he got from those he talked to was a feeling of community.
Contact University Communications & Marketing with comments, questions, or story ideas.