UM-Flint Student Artist's Work Featured in Lansing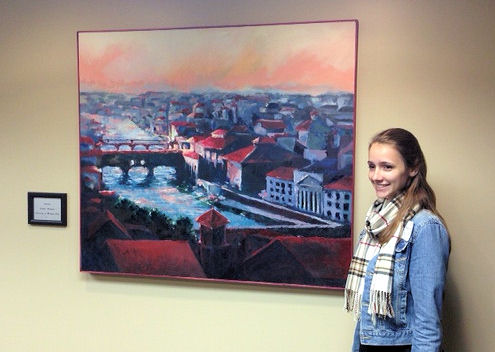 Artwork from students representing the state's 15 public universities is now hanging in the Anderson House Office Building near the State Capital. The building houses the offices of Michigan House members.
A painting by UM-Flint student Heather Workman has not only been selected to be part of this year's collection, it has also been chosen for the cover of the 2013-14 "Art in the House" program. Workman's piece "Untitled" will hang on the 10th floor for the next year.
Workman is a dual honors major, working on a BA in history and a BFA in studio arts painting. She says it took her about 60 hours to complete the painting of a scene overlooking Florence, Italy.
"I am very much inspired by things and people in my everyday life, and also by those I see traveling—which offer a contrast," Workman said. "My favorite subject is the human figure and portraiture. There are so many different elements in a person's expression, and I love trying to capture it correctly."
The "Art in the House" program was started 9 years ago, and is a collaboration of the Michigan House and the President Council of State Universities of Michigan (PCSUM).
Michael Boulus, PCSUM executive director points out, "The addition of student artwork has added to the aesthetic quality of the interior of the Anderson House Office Building, and has provided a venue to promote the creative talents of our state university students."
Contact University Communications & Marketing with comments, questions, or story ideas.