Former Surgeon General to Deliver UM-Flint Commencement Address
Dr. David Satcher, a former U.S. surgeon general, will receive a University of Michigan Doctor of Science honorary degree (pending U-M Board of Regents approval at the Oct. 18 meeting) at the University of Michigan-Flint Winter Commencement 2013.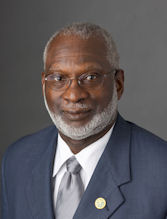 Dr. Satcher will also be the commencement speaker for the exercises. The 2013 Commencement will be held at 2:30 p.m. on December 15 at the Perani Arena and Event Center.
Dr. Satcher established The Satcher Health Leadership Institute (SHLI) at Morehouse School of Medicine in 2006 as a natural extension of his experience in improving public health policy for all Americans, and his commitment to eliminating health disparities for minorities, poor people, and other disadvantaged groups.
Appointed by President Bill Clinton in 1998 as the 16th surgeon general of the United States, Dr. Satcher served simultaneously in the positions of surgeon general and assistant secretary of health at the U.S. Department of Health and Human Services. As such, he held the rare rank of full admiral in the U.S. Public Health Corps, to reflect his dual offices.
During his service as surgeon general, Dr. Satcher tackled issues that had not previously been addressed at the national level, including mental health, sexual health, and obesity-as well as the disparities that exist in health and health care access and quality for minorities. His groundbreaking reports, particularly around sexual health and behavior, were often controversial. In 2001, his office released The Call to Action to Promote Sexual Health and Responsible Sexual Behavior. The report provoked both controversy and praise, and was hailed by the chairman of the American Academy of Family Physicians as a long overdue paradigm shift.
The reports he issued as surgeon general have triggered nationwide efforts of prevention, heightened awareness of important public health issues, and generated major public health initiatives.
Dr. Satcher graduated from Morehouse College in Atlanta in 1963 and was elected to Phi Beta Kappa. He received his M.D. and Ph.D.  from Case Western Reserve University in 1970 with election to Alpha Omega Alpha Honor Society. He completed his residency/fellowship training at Strong Memorial Hospital, the University of Rochester, UCLA and King/Drew.
Contact University Communications & Marketing with comments, questions, or story ideas.