TOUCH-A-TRUCK 2013: Family Fun That Really Motors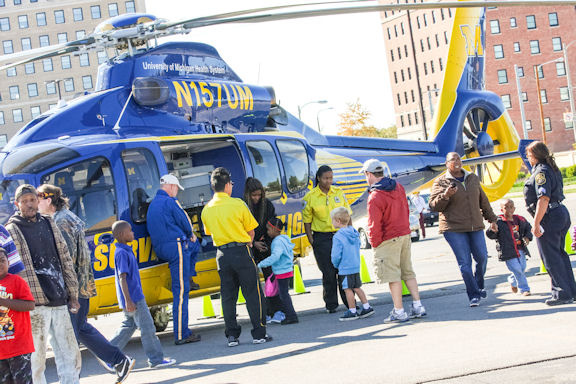 Touch-A-Truck is intended to help familiarize children with the men, women, and yes, vehicles charged with keeping their community safe.
Over a thousand visitors attended last year's free, family-fun event on the campus of the University of Michigan-Flint.
One of the big hits of last year's Touch-A-Truck event was the appearance of a survival flight helicopter from the University of Michigan Health System. The helicopter and support crew will return this year, joined by a second helicopter from the Michigan State Police.
In addition to the helicopters, a display of some of the pickup trucks made at the Flint Assembly Plant will be provided by General Motors.
UM-Flint's North Parking Lot at Saginaw Street and Fifth Avenue (across from Rally's) will once again be the location for the event, which goes from 11 a.m. to 3 p.m. this Saturday, September 28th.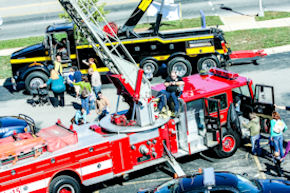 This year's event will feature more of everything. More helicopters, more specialty vehicles, and a lot more trucks. In all, about 30 specialty vehicles will be available to checkout up-close. In addition to the vehicles, there will be free food, face painting, balloons, free child I.D. kits, and bounce houses.
Touch-A-Truck is made possible through a partnership with the UM-Flint Student Government and Department of Public Safety, Flint Police Department, Genesee County Sheriff Department, Mott Department of Public Safety, Michigan State Police, Genesee County Road Commission, and some really cool local businesses with some very BIG trucks!
Contact University Communications & Marketing with comments, questions, or story ideas.