UM-Flint Fall Career Fair Highlights New Efforts to Connect Students and Employers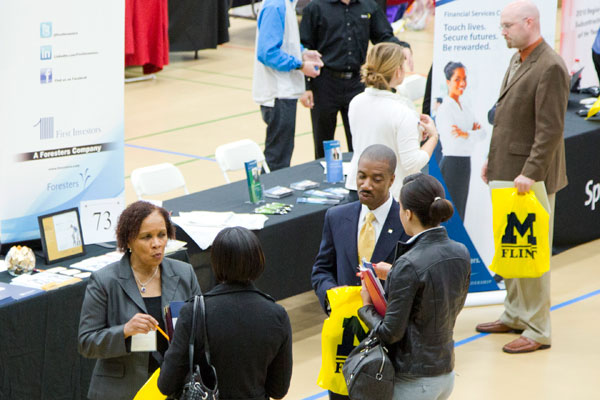 UM-Flint students use the Fall Career Fair to find a job or an internship. To help students be successful in their search, a new effort is being made to better align specific students with employers seeking to fill specific positions.
To accomplish this, Career Services has added Sara Barton as the new Employer Recruiting Coordinator. In her position, she works to establish better linkages among Alumni Relations, Corporate and Foundation Relations, and Career Services.
"I am here to enhance the University's relationships with existing corporations, as well as to build new relationships in areas of need," said Barton. "We want to ensure the Career Fair is meeting the needs of our students in all majors."
According to Aimi Moss, director of the Academic Advising and Career Center, the coordinator will work collaboratively with faculty and staff across the university focusing on assessing our current employer relations program, and based on those findings, develop a strategic and focused employer relations recruiting strategy. That process will include asking and answering questions such as:
Who are our most engaged employers currently and in the past?
Who should we target for enhanced relations?
What industries are we missing with employer relations?
Are we diverse enough with local, state, national, and international employers?
"We believe that this pilot program, rooted in deep and meaningful collaboration between our two areas, is the best possible approach for enhanced employer relationship building," said Moss. "Staff members in the Academic Advising and Career Center, as well as staff members in the Office of Development and Alumni Relations, are approaching this work with a true collaborative spirit and vision."
Becky Pettengill, corporation and foundation relations officer, has been working for the past year to bring together faculty and staff across campus who work with student internships in order to better understand the breadth of relationships already in place, and to help facilitate discussion and dissemination of best practices.
"A key aspect of corporate and alumni relations is being able to share the impact of engagement with our campus to prospective organizations or corporations, and ultimately to pipeline well-qualified talent into their organization," said Pettengill. "Having Sara in the development office has already created an energy and synergy for relationship building. We are looking to build on the great experience that Career Services has established, and by working collaboratively we are hoping to increase the number of opportunities for students, corporations, and organizations."
The results of the new efforts to attract corporations and businesses to the campus can be seen in the upcoming 2013 Fall Career Fair, being held on October 16. More than 60 organizations, grad schools ,and businesses including General Motors CCA, Auto-Owners Insurance, Target, and DTE Energy will be represented at the event.
Contact University Communications & Marketing with comments, questions, or story ideas.