UM-Flint Faculty, Staff, and Students Invited to Join Long-Term Cancer Study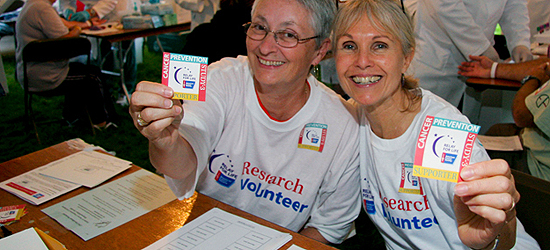 The American Cancer Society is looking for 300,000 people interested in participating in a landmark new research study: Cancer Prevention Study-3 (CPS-3). The study is designed to better understand ways to prevent cancer.
Recently, the UM-Flint Recreation Center, General Motors Customer Care and Aftersales, and Making Strides Against Cancer for Flint joined the American Cancer Society in launching the Flint area Cancer Prevention Study-3 enrollment effort.
"There are companies, families, and friends in the community coming together for this historic study," said Thersa Landis, director Auxiliary & Recreational Services. "I hope the campus community wants to be a part of this unique opportunity to fight back against cancer."
Individuals may choose to participate if they are willing to make a long-term commitment to the study (which involves completing follow-up surveys periodically over the next 20-30 years), are between the ages of 30 and 65 years old and have never been diagnosed with cancer.
To start the enrollment process:
> Make an appointment online at http://www.cancer.org/myacs/greatlakes/areahighlights/glflintcps3
> Once you make that appointment, you will get an e-mail with a link to a baseline survey to fill out. This survey will take about 20-30 minutes to fill out and ask questions related to your current health.
> Come to your appointment on Oct. 26, 29, or 30. Bring the confirmation of your completed survey with you and turn that in.
> Check in and fill out a short version of another survey (this one simply asks the same sort of questions, but much shorter and also more detailed to what you did that morning: did you drink coffee, etc.?). After filling out the survey, you will go to the next station where you will get your waist measured. This is also the station that you tell them if you already filled out the online survey. If you did, great. If you didn't, you can either leave with the paper survey or ask if they want you to fill it out online at home. Lastly, you move on to the final station where you will get a small amount of blood drawn from Quest Diagnostics.
Participants will receive a survey every 2 years for the next 20 years. No traveling, no other commitment beyond that. It's as simple as taking a 45-minute survey every 2 years to be enrolled in this study.
"There are no tangible incentives to being involved in the study," said Jennifer Beamer, associate director Lakeshore Division, American Cancer Society. "The incentive is simply to get involved and enroll because you want to make a real, long-lasting, impact on the history of cancer. I truly believe we will be celebrating the findings from this study in the future, just as we already have with CPS-1 and CPS-2, and it's very exciting to be a part of it."
Contact University Communications & Marketing with comments, questions, or story ideas.