"Until Tuesday" Author to Speak at UM-Flint Student Veterans Center Event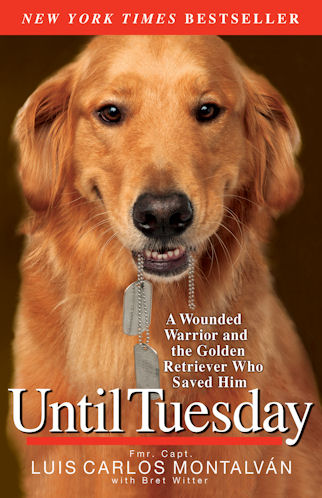 New York Times Best-selling author and former U.S. Army Captain Luis Carlos Montalván, a 17-year veteran of the military who saw two combat tours in Iraq, will be the guest speaker at a special event sponsored by the UM-Flint Student Veterans Resource Center on September 24.
Capt. Montalván was decorated with numerous awards, including two Bronze Stars and a Purple Heart. When he returned home, his physical wounds and crippling post-traumatic stress disorder began to take their toll. Then he met Tuesday, a golden retriever that was trained to assist the disabled. Tuesday had lived among prisoners and at a home for troubled boys, where he had experiences that made it difficult for him to trust human beings—until Montalván.
Montalván's book, Until Tuesday: A Wounded Warrior and the Golden Retriever Who Saved Him is on the New York Times Best Seller List, and has been described as a story about the love between a man and dog, and how, together, they healed each other's souls.
Capt. Montalván travels the country to speak about veterans affairs, living with disabilities, animal assisted therapy (AAT), and recovery from trauma and war. Since he was also a student veteran at Columbia University, graduating in 2010, he will also touch on the importance of on-campus resource centers for veterans.
Campus and community are invited to hear Capt. Montalván and meet his service dog Tuesday at a special free presentation on Tuesday, September 24 at 3:45 p.m at the Riverfront Banquet Center. The Center's parking ramp will offer free parking.
Copies of his book will be available for sale and signing. For more information, visit  http://until-tuesday.com/.
Contact University Communications & Marketing with comments, questions, or story ideas.