UM-Flint Named a "Best in the Midwest" for the 12th year
The Princeton Review has selected the University of Michigan-Flint to its "Best in the Midwest " list for the 12th year in a row.
The education services company widely known for its test prep programs and college and graduate school guides, named 155 institutions to its "Best in the Midwest" section of its "2014 Best Colleges: Region by Region," that posted today on the company's website.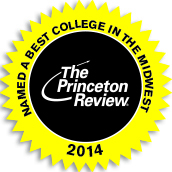 Part of the criteria used to determine if a school will be selected is a survey of students by the Princeton Review. According to the survey, students say that the undergrads greatly appreciate the "flexibility of class hours" which certainly "suits a work schedule." Indeed, with its myriad of online courses and an "excellent child-care program" to boot, the "convenience" UM-Flint offers is a dream for non-traditional students. Academically, students are thrilled with their professors. A "real asset," educators here are "accommodating, accessible, and seek to build rewarding relationships with their students." And while "they expect a lot from you," they also "go out of their way…to help you out in whatever way possible." Undoubtedly, UM-Flint professors "want you to succeed" and are "very encouraging."
When surveyed about the student body, another undergrad continues, "There is a mixture of students. Some are freshmen right out of high school. Others are middle-aged and looking to improve on the life they've already built for themselves. Still others are young adults who have tried some other fields and are looking for a better fit. I love the diversity in terms of background. I believe there is a place for everyone here." Beyond age and ethnicity, students at UM-Flint find their peers to be "friendly," "reserved" and "busy balancing work and school." Finally, "a small campus means everyone knows everyone. You're always waving to or holding the door for someone you know."
When surveyed on campus life, a student said "School life is what you want to make for yourself" and quickly pointed out that "the university has many club and organizations." Certainly, "there is usually something happening at least every other week like movies in the Kiva, or free food somewhere." Another student makes mention of the fact that "the dorms have brought a social life to campus" and specifically calls out the Greek community for all the events they sponsor. Downtown Flint offers "a number of eateries, bars, art galleries, and events." In addition, "the farmer's market and cultural center are both walkable from campus." What more could a college student ask for?
"We're pleased to recommend these colleges to users of our site as the best schools to earn their undergrad degrees," says Robert Franek, Princeton Review's senior VP / publisher. "We chose these as our 'regional best' colleges mainly for their excellent academic programs. We also take into account what students at the schools reported to us. Only schools that permit us to independently survey their students are eligible to be considered for our regional 'best' lists."
"Our faculty continues to offer excellent academic programs that our students have come to expect," said Chancellor Ruth J. Person. "I am very proud that we have received recognition for our excellence for so many years in a row."
Contact University Communications & Marketing with comments, questions, or story ideas.