UM-Flint Receives Sculpture In Memory of Joanne Sullenger
In memory of Joanne Sullenger, who served as vice chancellor for development at UM-Flint for more than two decades, a copper sculpture of stargazer lilies and other botanicals has been donated to the university and will be displayed in the Frances Willson Thompson Library.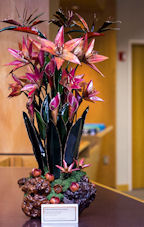 The sculpture was presented by her daughter Avery Sullenger-Wedder during a special reveal to friends, co-workers, and administrators held on August 1, on the third floor of the library. Provost Gerard Voland and Library  Director Bob Houbeck spoke at the event. Houbeck reminding the group of the major role Sullenger played in finding the funding for building the library. Voland recalled how she always worked for, and cared about the university and the community.
Sullenger left a very special legacy at UM-Flint. She was very successful in establishing privately-funded endowed scholarships for the students, and notably headed the fundraising campaign for the Frances Willson Thompson Library. So many students have been able to seek a University of Michigan degree due the generosity of the donors Joanne brought close to the campus, and those students have had an education enriched by the resources and staff of the Thompson Library.
A community tradition that was established during Sullenger's tenure is the Frances Willson Thompson Critical Issues Forum. Mrs. Thompson believed that a community could be enriched through dialogue. It was that inspiration that led to her vision of a vibrant lecture series that would bring to the Flint community leading experts to debate and discuss the critical issues of our times. Charged with bringing to life the vision of Mrs. Thompson, it was Sullenger who was the architect of the Critical Issues Forum speaker series, and turned it into a great Flint tradition.
In honor of her foresight and commitment to the campus, the Sullenger Dialogues were named in her honor. Different than the lecture during the luncheon presentation at the Critical Issues Forum, the Sullenger Dialogues are designed to encourage an intimate conversation between the visiting experts, distinguished UM-Flint faculty, students, and the community. This is a very fitting tribute to a woman who loved a good conversation.
Contact University Communications & Marketing with comments, questions, or story ideas.