UM-Flint 2012-13 and 2013-14 Collegiate Lecturers Selected
Based on recommendations from the deans, Provost Gerard Voland has selected the 2012-13 and 2013-14 Collegiate Lecturer Award recipients for the University of Michigan-Flint.
According to the selection criteria, candidates, among other qualifications, must be nominated based on exceptional teaching and/or exceptional service or other contributions to the university. The 2012-13 Collegiate Lecturer Award recipient is Jan Worth-Nelson, lecturer of English and director of the Thompson Center for Learning and Teaching, and the 2013-14 recipient is Maureen Thum, lecturer of English and director of the Honors Program.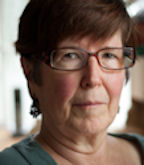 Worth-Nelson received her B.A. degree in Journalism from Kent State University, her M.S.W. degree in Social Work from the University of Michigan, and her M.F.A. degree from Warren Wilson College.  She joined the UM-Flint faculty in 1993.  She originally joined the University in 1987 as coordinator of what was then called the Re-Entry Center (i.e. Adult Resource and Women's Center).  Prior to serving as director of the Thompson Center for Learning and Teaching, she served as director of the Pilot Project for the CAS Freshman Writing Assessment in 2002, and coordinator of the English Placement Test Program from 1998-2003.
The Critical Difference Fund, which is still operating to offer emergency help for students, grew from a proposal that she put forth in the mid-90's. She taught for 18 years first year writing – English 111 and 112 – and now teaches mostly creative non-fiction and advanced poetry writing.
Jan has had a large number of articles, essays, columns, anthologies, poems, and short stories published as well as providing several radio commentaries.  In addition, she published a novel in 2006 based on her Peace Corps experiences entitled Night Blind. In total, she has also provided over two dozen presentations and workshops and over 20 public performances.
"As many of you know and have recognized, the Thompson Center for Learning and Teaching has enjoyed Jan's excellent leadership. I couldn't have asked for more," said Provost Gerard Voland. "Just some of her accomplishments have included:  development of initiatives in experiential/project-based learning as related to the local community and beyond; assistance with using student outcomes assessment to improve our curriculum; and, helping to integrate appropriate technologies into the learning experience."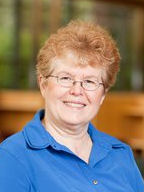 Maureen Thum received her B.A. and M.A. degrees from Queen's University, Kingston, Ontario, Canada, and her Ph.D. from Michigan State University.  She joined the University of Michigan-Flint faculty in 1975 after teaching at Mott Community College for three years. She served as Assistant Director of the Honors Program from 1997 through June 2000, followed by serving as director since July 2000.
Thum has published 19 refereed articles and 14 abstracts in scholarly journals and presented over 100 refereed papers at professional conferences, along with facilitating and sponsoring over 400 student papers presented at undergraduate conferences.  She was the recipient of two National Endowment for the Humanities Summer Seminar awards at Princeton University and Brown University.
Thum's service to the university has included serving on the Academic Affairs Advisory Committee, Library Resources Committee, Graduate Resources Committee, International Studies Program, Telecommunications Committee, Writing Across the Curriculum, CAS Grievance Committee, to name only a few.
"Maureen is the epitome of student-centeredness as Director of the Honors Program," said Provost Voland. "Maureen has facilitated seven Annual Scholarship Competition Day events, which attracts upward of 50-60 students to the University."
Contact University Communications & Marketing with comments, questions, or story ideas.