UM-Flint Now Has Representation on ITGA Board of Directors
University of Michigan-Flint Director of Government Relations David Lossing, has been elected to the International Town and Gown Association's (ITGA) nine-member board of directors for the 2013-2015 term.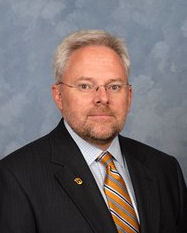 Lossing also serves as the current president of the Michigan Municipal League. In the coming years, the newly-elected board of directors will f
ocus on the organization serving as the primary resource point for common issues between institutions of higher learning and the communities in which they reside.
Lossing said, "I'm looking forward to expanding upon the work we've done in Michigan for the past year and linking state municipal leagues with their post-secondary partners to advance a rich, comprehensive dialogue between the two.  Especially in Michigan, I encourage our post-secondary institutions and the city's that they call home to become involved in the Association."
As president of the Michigan Municipal League, Lossing has focused on Town Gown relations between the state's post-secondary institutions and their communities.  The MML has created a blog, Town Gown Michigan, which highlights these relationships across the state on a monthly basis.  The July/August 2013 edition of The Review, the bi-monthly magazine of the MML, focuses specifically on town gown relationships and the impact they are having in three communities: Alma, Big Rapids and Sault Ste. Marie, Michigan.
According to ITGA President-Elect Pete Haga, among its many responsibilities, the board will work with the organization's marketing committee to build membership among universities, colleges and cities worldwide.
Contact University Communications & Marketing with comments, questions, or story ideas.