UM-Flint Looks for Big Energy Savings with New Boilers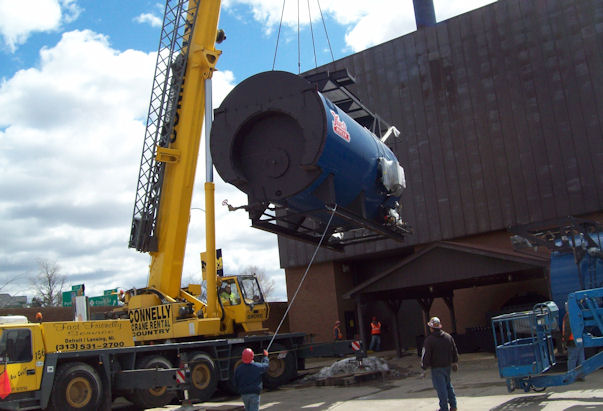 One of the University of Michigan-Flint's ongoing efforts is to cut energy and operating costs wherever possible. Lighting, heating and cooling, and water conservation projects have led to hundreds of thousands of dollars in savings over the years. Recently, Facilities and Operations began the major project of replacing the campus' 30-year old boiler system.
The $2.5 million boiler project consists of installing two 800-horsepower (HP) boilers that includes economizers with an efficiency rating of 85%. These two boilers will be replacing three 350-HP boilers and one 300-HP with efficiency ratings of 67%. This equates to annual natural gas savings of nearly $133,000.
The project will not just save natural gas. A new boiler water treatment system will be installed that will save over 1 million gallons of water annually. The project also includes the installation of a new, state-of-the-art energy management system for monitoring and control enhancements. Besides heating the campus buildings, the boilers provide domestic hot water and humidification.
Tim Barden, assistant director of Facilities and Operations says, "With all of the energy and utility savings combined, the projected annual savings could exceed $200,000."
Work on the boiler installation is expected to be completed in September.
Contact University Communications & Marketing with comments, questions, or story ideas.