UM-Flint Department of Nursing to Award Ten $10,000 Scholarships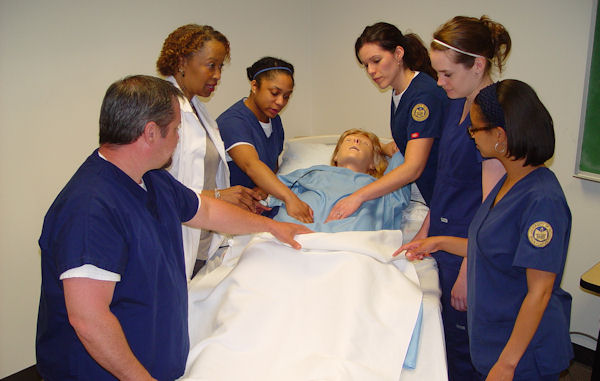 The Robert Wood Johnson (RWJ) Foundation's New Careers in Nursing (NCIN) program has awarded the University of Michigan-Flint a $100,000 grant for special scholarships.
"The purpose of the NCIN program is to help alleviate the nursing shortage, increase the diversity and cultural competence of nursing professionals, and develop leadership skills," said Clinical Assistant Professor Melva Craft-Blacksheare DNP, CNM. "The program provides $10,000 scholarships to non-nursing college graduates enrolled in accelerated nursing programs such as UM-Flint's accelerated 16-month second degree or second career Bachelor of Science in Nursing (BSN) program."
Through the NCIN program, UM-Flint is able to award ten accelerated second degree BSN students from underrepresented groups in nursing or disadvantaged backgrounds with a $10,000 scholarship, and also provide intensive leadership training during the 2013-2014 academic year.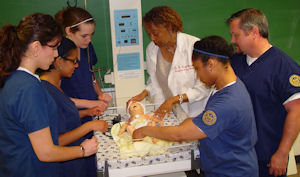 Last year, five students received the NCIN scholarships. Those five recipients are currently studying maternal-child nursing under the mentorship of Craft-Blacksheare, who is a Certified Nurse Midwife (CNM) and experienced faculty member. The students will complete the intensive 16-month curriculum in December 2013, at which time they will earn the BSN degree and arrange to sit for the National Council Licensure Examination (NCLEX-RN).
John Mellott received the NCIN scholarship last year. While he already earned a BBA, he was unable to find work in his field of human resources and instead found a job in a pawn shop. Mellott still desired to have a career. "I had to reevaluate my life and the direction it was headed. A friend of mine talked to me about a second degree program for nursing. Nursing is in service of others and feels so natural to me," noted Mellott.  "When I heard of the RWJ scholarship, I thought 'why not?' I was elated to find out I had won."
Joyce Jeziorski is a single mom who is also a RWJ Scholar. "Entering the accelerated nursing program last year was a leap of faith because I had no idea where I was going to come up with the money. I prayed and prayed that God would give me an answer to my financial needs and he did," said Jeziorski. "I don't really think the people giving out this grant could possibly understand how much this money can change a person. Yes, the money goes towards tuition, but beyond that this grant says to me, 'Joyce, we believe in you and we trust that you will make an excellent nurse.'"
"Thanks to Dr. Melva Craft-Blacksheare for mentoring the five students who received RWJ scholarships last year and for her grant writing success in doubling the number during the upcoming academic year," said Margaret Andrews, Ph.D., director of the UM-Flint Department of Nursing. "The $100,000 award will enable ten students to use their talents in pursuit of a second bachelor's degree in nursing. Research has shown that patients experience fewer post-operative infections, fewer medication errors, faster recoveries, and lower death rates when their hospital care is provided by RNs with bachelor's degrees."
Contact University Communications & Marketing with comments, questions, or story ideas.