First UM-Flint Graduates to Receive DNP Degrees Join May Commencement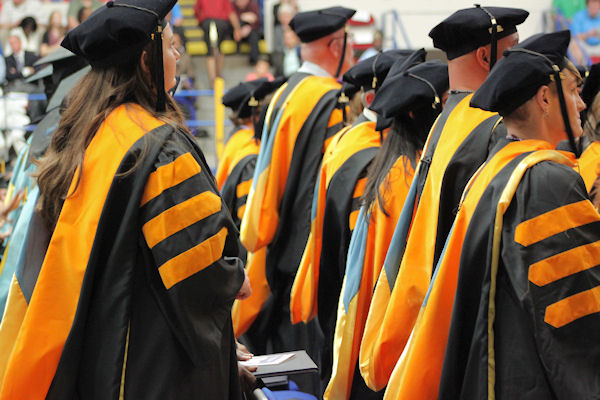 The first class of 20 Doctor of Nursing Practice (DNP) graduates walked across the stage to receive their diplomas on Sunday May 5, 2013 at the University of Michigan-Flint's largest-ever commencement ceremony.
The DNP program began in 2009 in response to a national change in the graduate education of nurses initiated by the American Association of Colleges of Nursing, an organization with 720 member institutions offering baccalaureate and higher degrees in nursing in the U.S. and American territories. The DNP course work is rigorous, and there is a required doctoral research project that takes place in a clinical setting and is focused on improving patient care outcomes.
"The nurses who completed the program have been prepared for the challenges of 21st century health care by their course work in informatics, transcultural care, organization and management, health policy, and other courses," said Connie Creech, Ph.D., director of the Graduate Nursing Program at UM-Flint.
The graduates have been offered positions in many areas of health care, including family practice-primary care, specialty acute care, geriatrics, and palliative care. Many are also interested in teaching the next generation of nurses and have opportunities for employment in all types of nursing education programs including baccalaureate nursing programs such as UM-Flint's.
"The advanced practice nurses who graduated with the DNP degree this past weekend will make valuable contributions to the delivery of primary health care that is high quality, affordable, and accessible to people across the life span. The UM-Flint program prepares family, adult-gerontology, and psychiatric/mental health nurse practitioner specialists. After passing a national examination, the graduates will be credentialed to practice in their respective areas of specialization and to play a leadership role in the delivery of primary care  services. The UM-Flint program has a special emphasis on preparing leaders who are committed to reducing health disparities and serving under served, culturally diverse populations," said Margaret Andrews, Ph.D., director of the UM-Flint Department of Nursing.
The DNP program at UM-Flint is innovative in that it is delivered primarily in an online format, yet provides students with on-campus instruction approximately once a semester. The course work is completed online; however, student seminars and clinical experiences require face-to-face interactions.
The faculty-designed program provides increased access to a high quality UM-Flint education for motivated students who prefer the flexibility of online courses, such as those who live out of town or have long commutes. The nursing faculty have worked diligently to develop innovative ways to connect to these students online.
The popularity of online graduate education in nursing is growing rapidly. In fall 2013, there will be more than 200 graduate students enrolled in UM-Flint's Master of Science in Nursing (MSN) and DNP nurse practitioner programs.
Contact University Communications & Marketing with comments, questions, or story ideas.