Annual Cesar Chavez March Set for Saturday, March 30th from UM-Flint Campus
The University of Michigan-Flint Diversity Education Services, in partnership with the Hispanic/Latino Collaborative of Genesee County, will host the annual Cesar Chavez March and commemoration of his birth, Saturday, March 30, 2013 at noon.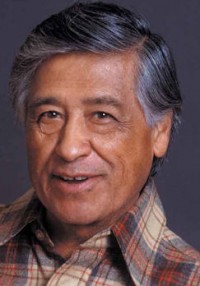 The march will commence at the University of Michigan-Flint's Harding Mott University Center and will be followed by a formal program honoring the union organizer and activist. The keynote address will be delivered by Ms. Maria Enriquez of the Michigan Department of Community Health.
The son of migrant laborers, Chavez was born on March 31, 1927.  He founded the National Farm Workers Association (NFWA) and later the United Farm Workers (UFW).  He led a five-year nonviolent boycott against California grape growers, protesting poor working conditions and the use of pesticides harmful to farm workers. The boycott became a cause celebre and was finally successful in winning new rights for workers. In 1994 Chavez was posthumously awarded the nation's highest civilian honor, the Presidential Medal of Freedom. Cesar Chavez passed away on April 23, 1993.
The Cesar Chavez march and commemoration is free and open to the public. Lunch will be provided. For more information, contact Diversity Education Services at (810) 762-3169.
Contact University Communications & Marketing with comments, questions, or story ideas.