Longtime Flint Cultural Center Administrator to Head UM-Flint's Development and Alumni Relations
The appointment of Linda Moxam to the position of executive director for Development and Alumni Relations was recently announced by University of Michigan-Flint Chancellor Ruth J. Person.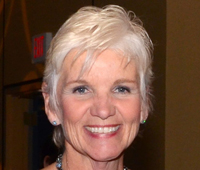 Since 2004, Moxam, who is a UM-Flint alumna, has served as the director of development for the Flint Cultural Center Corporation. Prior to that, she worked in development at the Foundation for Mott Community College (MCC). She is certified as a fundraising manager by the Indiana University School of Philanthropy.
"A UM-Flint alumna, Linda brings with her substantial experience in the area of fundraising as well as an outstanding commitment to community service," said Chancellor Person. "Her enthusiastic support of the Flint community is well known to many. She has been a staunch supporter of the arts, particularly in the area of theatre where she has been both a professional actress and director."
While at MCC, she was instrumental in assisting with the establishment of program called Women in Education that helped non-traditional female students with emergency funding. Within a short period of time, a quarter of a million dollars was raised, women who might not have stayed in school remained and the fund was endowed.
In accepting the position, Moxam said she was thrilled to return to the organization that planted the seeds for a career in education and the non-profit arena and presented so many opportunities to make a difference.
"When I was a student here I gave little thought to the role the university played in anyone's life but mine. How things have changed," noted Moxam. "Returning to UM-Flint, I realize how much our school has to offer to the students who gather from our state, our nation, and the world; and the increasing importance of our institution to the greater Flint area."
Moxam's philosophy of philanthropy is based on building strong relationships. Connecting individuals to organizations, seeing the transformation that these relationships create for both donors and recipients, and watching what happens next.
"There is no greater satisfaction than in knowing that one's efforts have helped an organization grow and donors come to the realization that they have played their own role in that growth,"  said Moxam. "We are a unique university set in the heart of Genesee County. We have challenges but with those challenges come opportunities that are fueled by creativity, curiosity and innovation.  Together, the community, faculty, students and staff will play a major role in the future success of UM-Flint and all that it has to offer."
Contact University Communications & Marketing with comments, questions, or story ideas.