New Dean Named for UM-Flint School of Management
Scott D. Johnson, Ph.D., dean and professor of marketing at Illinois State University has been selected as the new dean for the University of Michigan-Flint School of Management (SOM), effective July 1, 2013.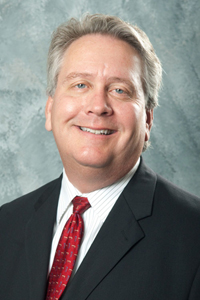 Johnson is no stranger to Michigan and the Midwest. He earned his B.A. and M.B.A. degrees from the University of Minnesota, with a one-year study abroad experience at the University of Göttingen, Germany.  He completed his education earning a Ph.D. at Michigan State University.
Previously, he served as the dean and professor of marketing, College of Business at Minnesota State University from 2002 through 2009; as chair of the Department of Marketing and professor of marketing; and as Marketing Discipline Lead and associate professor of marketing, College of Business and Public Administration, at the University of Louisville from 1998-2002 and 1997 to 1998, respectively. Other teaching experience includes Grand Valley State University, Michigan State University, and Mankato State University, Minnesota.
In announcing his selection, UM-Flint Provost Gerard Voland said, "I am extremely pleased that Dr. Johnson will be assuming the deanship of the School of Management and am confident that he will bring fresh ideas, innovative programs, build collaborations with the local and regional communities, and work with faculty and staff in sharing the visions and implementing the strategic plan of SOM and the university."
Johnson's research is extensive in the areas of Recommendation-Based Decision Making, Embedded Markets, WOM Communication, and Marketing and Business Education producing over a dozen refereed journal articles, two book chapters, one book review, four business/trade publications, and one academic video release. These are coupled with many academic journal editorial comments, conference proceedings, and almost 50 presentations.
Johnson's dean experience has guided two successful AACSB (Association to Advance Collegiate Schools of Business) Maintenance and Accreditation reviews; he has a track record of being a successful fundraiser; leads highly acclaimed programs in accounting, insurance, and professional sales; and has been instrumental in building and expanding six centers and institutes in entrepreneurship, insurance, international business, organizational leadership, professional sales, and small business.
Joining a student-centered institution, Johnson said, "I thoroughly enjoy celebrating and recognizing the success of students and alumni. I value collaborative work with all units on campus to build the brand of the university."
Provost Voland thanked Vahid Lotfi for serving as SOM acting dean for the past two years, and the members of the Dean Search Committee.
Contact University Communications & Marketing with comments, questions, or story ideas.