Dale Kildee to Receive Honorary Degree at UM-Flint Spring Commencement
Dale Kildee, longtime member of the U.S. House of Representatives, is one of seven individuals recommended and approved for an honorary degree by the University of Michigan Board of Regents.
Kildee will receive his degree at the University of Michigan-Flint commencement ceremony on May 5 at the Perani Arena and Event Center. He will receive the honorary degree at the morning (11 a.m.) commencement ceremony, and will be the speaker for the morning session. Dr. Kenneth Steibel, M.D. (Biology '77), Chief of Staff at Genesys Regional Medical Center, will be the Commencement Speaker for the afternoon (3 p.m.) session.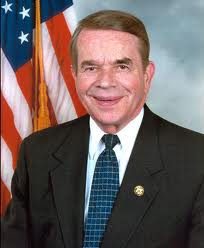 Born in Flint, Kildee earned a Bachelor of Arts degree in 1952 from the Sacred Heart Major Seminary in Detroit, and a teaching certificate in 1955 from the University of Detroit Mercy. He taught at the University of Detroit High School from 1954 to 1956 and at Flint Central High School from 1956 to 1964. Kildee studied political science and history at the University of Peshawar in Pakistan under a Rotary Foundation Fellowship, and earned a Master of Arts degree in education in 1961 from U-M.
His political career began with his 1964 election to the state House of Representatives, where he served until 1974. He was elected to the state Senate in 1974 and the U.S. House of Representatives in 1976. After 36 years in Congress, he chose not to run for reelection in Michigan's 5th Congressional District in 2012.
Kildee was the second-most senior Democratic member on the House Education and the Workforce Committee and the Natural Resources Committee. As chairman and then ranking Democrat on the Subcommittee on Early Childhood, Elementary and Secondary Education, he fought to ensure that American children compete successfully in a global economy.
Kildee has been a loyal friend to the University of Michigan, especially UM-Flint. Many students have gained valuable experience as interns in his offices. He also secured federal funding for important initiatives, including a 2008 Department of Health and Human Services grant that helped train UM-Flint students for health professions. He co-chaired the Auto Caucus and founded and co-chaired the Native American Caucus.
Contact University Communications & Marketing with comments, questions, or story ideas.