[IN] Innovation Incubator Helps UM-Flint Students Start New Businesses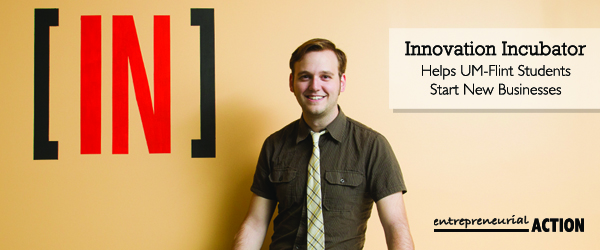 College students who dream of owning and operating their own business usually have to wait until graduation to begin their entrepreneurial goals. An innovative program at the University of Michigan-Flint helps students start their own business while still in school.
Funded through the support of the C.S. Mott Foundation, the Student Innovation Incubator is a place to nurture emerging businesses and/or social enterprises. The incubator, located in the Northbank Center, is a program of University Outreach that is designed to promote innovation, collaboration, and success.
Success is what former UM-Flint student Paul Knific is finding with the business he started, Epic Technology Solutions. One of his business ideas helped enable the use of Bridge Cards at the Flint Farmers' Market. More than 1,900 people are currently using it, and it has generated more than $43,000 in business. While the computer system is the only one of its kind, Knific said the plan is scalable and he now has a statewide target. The business, which is operated by Knific and his brother, has recently hired two employees.
Closet Studio, a graphic design company, is another Incubator aided business. In the past year, it has signed up 42 clients. The company owner, James Thigpen, networks with other local designers and has hired a contractor in web and video productions.
If a start-up business needs space, room is available within the Incubator. Seven businesses operate out of the location, while 45 non-tenant student businesses use the resources of the Incubator.
"Our Innovation Incubator has provided useful space to student businesses as well as providing entrepreneurial guidance and programs to students and community members," noted Dale Tuttle, program manager of the Innovation Incubator. "In addition, an interest and parallel focus on social entrepreneurship has developed and is currently being refined."
The Incubator has much to offer new student businesses:
·         A co-working space for progressive thinkers and doers to collaborate and create
·         Meeting spaces for students and the community to convene
·         Office space with Internet and website hosting services supported by Information Technology Services on campus
·         Strategic consulting services to non-profit and for-profit organizations, linking sustainability to enterprise
·         Access to networks through University Outreach
·         Programming including workshops and conferences in sustainability, civic engagement and entrepreneurship
In the near future, Tuttle wants to implement three primary strategic objectives. First, provide enhanced experiential learning opportunities for students to help develop future leaders in the for profit and not-for-profit sectors. Another objective is to work toward further interdisciplinary integration across campus wherein entrepreneurship, innovation, and creativity can become a shared space in which students and faculty create opportunities for collaboration. The third goal is to strengthen ties between students, staff, faculty, and individuals and organizations throughout the community.
"Specifically, we hope to develop a dedicated network of community leaders serving as mentors for our aspiring student leaders," said Tuttle.
If you are UM-Flint student with a business idea and think the Innovation Incubator might be able to help you, start by answering 20 Questions about Your Business.
Contact University Communications & Marketing with comments, questions, or story ideas.