Chancellor's Review to Include Campus Visit by U-M President
University of Michigan President Mary Sue Coleman has initiated a reappointment review of UM-Flint Chancellor Ruth Person, whose current five-year term as chancellor ends August 17, 2013.
University of Michigan chancellors are appointed to five-year terms by the President of the University, with the approval of the Board of Regents. Prior to the end of a term, it is standard practice for the president to conduct a comprehensive reappointment review, if the chancellor is interested in possible reappointment to a successive five-year term.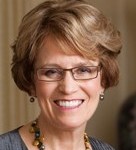 For this review, President Coleman is seeking input from faculty, students, staff, UM-Flint alumni, and community leaders. She is particularly interested in thoughts about the most important needs and opportunities that UM-Flint will face during the next several years, about Dr. Person's leadership of the UM-Flint during her current term as chancellor, and about her ability to lead the campus in meeting future challenges and opportunities.
Faculty and staff will receive a letter or e-mail from President Coleman soliciting comment. The President's Office will be working with student government to seek student input. This announcement also serves as a solicitation to any interested parties who wish to contribute their thoughts.
Comments may be sent:
by e-mail:
by letter:
President Mary Sue Coleman
Attn: UM–Flint Chancellor Review
Office of the President
2074 Fleming Administration Building
The University of Michigan
503 Thompson Street
Ann Arbor, MI  48109-1340
President Coleman will treat all input from faculty, students, and staff as confidential, using only summaries of input in subsequent discussions she has with Chancellor Person.
On December 5, President Coleman will visit the Flint campus as part of the review process, and she will conduct meetings in Michigan Rooms A & B with faculty, staff, student, and alumni leaders about the future of UM-Flint.
Meeting Times:
11:00 a.m. – Faculty Council
11:30 a.m. – Citizens Group and Alumni
12:00 p.m.– Vice Chancellors
1:00 p.m. – Deans
1:30 p.m. – Budget Priorities and Chancellors Advisory Committee
2:00 p.m. – Student Government and Staff Council
An open forum is scheduled for Michigan Rooms C & D at 2:30 p.m., and all campus and community member are invited to participate.
The review process also includes solicitation of comments from local leaders in the community and various knowledgeable individuals whom the president or her designate will contact at her discretion. President Coleman hopes to receive all comments by January 4, 2013.
For further information about Chancellor Person's reappointment review, please contact Lisa Connolly, project manager in the Office of the President who will be assisting with the review, by phone at (734) 764-6270 or email at limajeff@umich.edu.
Contact University Communications & Marketing with comments, questions, or story ideas.