Flint Hockey Rivals UM-Flint and Kettering Battle for "The Carburetor Cup"

In what could be the start of a new local sports tradition, the UM-Flint Hockey Club takes on neighboring Kettering University in the first annual battle for "The Carburetor Cup" (Nov. 2). A portion of gate fees will go to the Boys & Girls Club of Greater Flint.
The Carburetor Cup may be one of the strangest looking trophies in all of college sports. According to James Gaskin, executive director of the Boys and Girls Club, it was Kettering alum Stacey Merrill who donated the cup, after having sent his team out to junk yards across the county to find a vintage GM truck carburetor. "Total out the door cost: $27.50. Value: Priceless."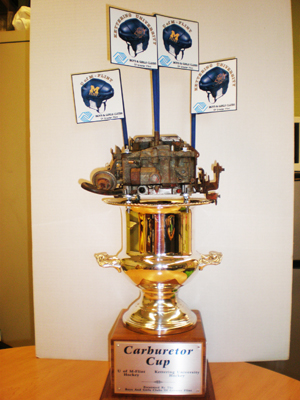 "The Carburetor Cup is a fantastic addition to the UM-Flint/Kettering rivalry. Creating a trophy for the annual winner will add to the competitive spirit of the game," said Dillon Thorne, UM-Flint Club Sports Coordinator. "The Cup came together by both teams really trying to push their in-city rivalry. The UM-Flint/Kettering game has always been one of our highest-attended games. I'm extremely proud of both teams making this an annual event, and helping the Boys and Girls Club. It's great for both our schools and our whole community."
"Kettering is absolutely a rival team for us," said Michael Schunot, a former UM-Flint player now in his first year as the team's head coach. "The schools are close together and a lot of these guys grew up playing against one another."
"Playing Kettering is always exciting for us," said UM-Flint goaltender and hockey club president Kirk Allen. "There is that cross-town rivalry and we get a good turnout. Regardless of how our season or their season is going, it's always an intense game."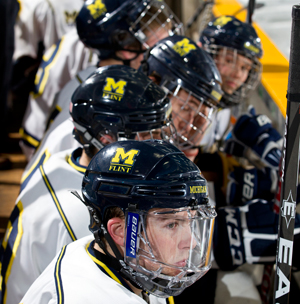 The club is 6-1 this season. Players recently won 6-5 in a shootout over Michigan State University's club team, and twice defeated Oakland University, a team they'd beaten only once before this year. About 80 percent of the team hails from Genesee County schools.
Everyone in the community is invited to attend Friday's kickoff of this soon-to-be Flint sports classic.
The Office of Alumni Relations has reserved the Blue Line Room, a private suite overlooking the arena, to entertain and feed alumni. Free pizza and soft drinks will be served.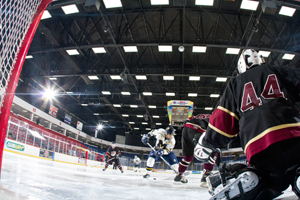 The puck drops at 8 p.m. Friday, Nov. 2, at Perani Arena and Event Center.
The game is open to all with $5 tickets for adults, $3 seniors, and free for those age 12 and under. Once again, a portion of ticket price goes to support the Boys & Girls Club of Greater Flint. Show your M-Card and get in FREE.
Contact University Communications & Marketing with comments, questions, or story ideas.