The Menaechmus Brothers Brings Double the Laughs to UM-Flint

This November, the University of Michigan-Flint Department of Theatre and Dance presents its second production of the season, The Menaechmus Brothers.
This hilarious comedy, by the ancient Roman playwright Plautus, will have audiences seeing double. Twin brothers Menaechmus and Sosicles were separated during childhood by a horrible kidnapper. Now adults, they unknowingly find themselves in the Greek city of Epidamnus, where mistaken identity, foiled plots and twists and turns abound. They manage to encounter everyone in the city–except each other. With a cast of clueless twins, clever slaves, quack doctors and even a hungry parasite, audiences will be laughing, while seeing double.
The Department of Theatre and Dance has built this production using the styling of Commedia dell Arte, an innovative form of comedy that reached its height during the Italian Renaissance, but has its roots steeped in ancient Greece and Rome.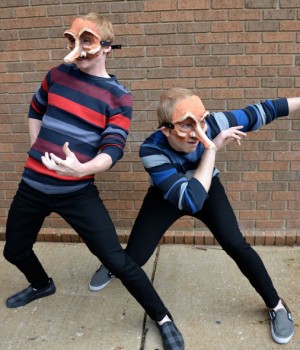 "It is by definition, a very physical style of theatre," explains the director, William Irwin. "The emphasis is placed on masked actors playing stock character types in a topsy-turvy world, where the stories are unpretentious and the sole purpose is to make the audience laugh."
The production runs November 2, 4, 10, and 16-18 at the UM-Flint Theatre. Friday and Saturday curtains are at 7:30 p.m.; Sunday matinees at 2 p.m. Tickets are $10 general public, and $8 students, seniors, alumni, faculty, staff and veterans. Box Office: 810.237.6520.
Contact University Communications & Marketing with comments, questions, or story ideas.