Author Nawal El Saadawi Selected UM-Flint's First "Jack W. Thompson Visiting Professor"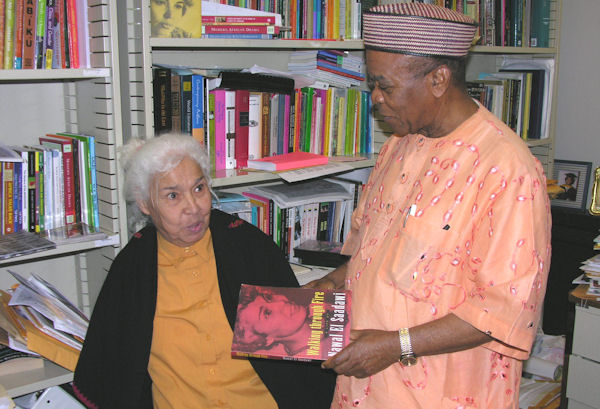 Dr. Nawal El Saadawi, MD, MPH, a medical doctor/psychiatrist and world renowned multi-genre creative writer, political activist, and advocate for women's rights, has been appointed as the 2012-13 Jack W. Thompson Distinguished Visiting Professor. 
Saadawi's writings include novels, short stories, plays, and biographies, with over 40 fiction and non-fiction books, her most notable being the novel Woman at Point Zero.
Educated in Egypt and the United States (Columbia University, New York), Dr. El Saadawi writes in Arabic and lives in Cairo, Egypt. She is the recipient of numerous honorary doctorate degrees the world over (Flemish University, Brussels, Belgium; University of Tromso, Norway; La Universidad Nactional Autonoma de Mexico; University of York, United Kingdom; University of Illinois, Chicago, etc.).
Dr. El Saadawi is also the recipient of numerous national and international awards, some of which include: Human Rights Award University of Oslo, Norway; Progressive Women Award, Madrid, Spain; Woman of the Year Award, London, England; and most recently in May, she was awarded the prestigious Stig Dagerman Literary Award bestowed for exceptional defense of the freedom of speech.
As a result of her literary and scientific writings, she has had to face numerous difficulties in her life, including the loss of her job, being banned by political and religious authorities many times, having magazines that she founded closed down, and even imprisonment. However, she overcame all of these difficulties and won many legal cases, strengthening human rights–especially for women.
Ernest Emenyonu, Ph.D., UM-Flint professor of Africana Studies, nominated Dr. El Saadawi. He will be assisting in coordinating her activities during the Fall Semester. She will be available to visit classes and lecture in the following disciplines: nursing, physical therapy, psychology, political science, criminal justice, creative writing, philosophy, African literature, and women's studies. Contact professor Emenyonu at 810-762-3353 or eernest@umflint.edu to schedule.
Contact University Communications & Marketing with comments, questions, or story ideas.