Shhh…UM-Flint Entrepreneurs Share Secrets
Two young entrepreneurs, one an alumnus and the other a current student at the University of Michigan-Flint School of Management (SOM), recently launched a successful website, http://mylifesecret.com/. Since May 2012, the site has had more than 900,000 page views.
Philip Pirkovic graduated with a dual degree in business management and economics. His brother, Saso, will graduate from SOM in December. A fellow SOM marketing graduate, Taylor Hinds, designed the look and feel of the website.
The brothers developed the website after learning that rates of cyber bullying, depression, and suicide are skyrocketing among young people. They believe this is unacceptable and wanted to make a difference. Their website provides a safe outlet for individuals to express themselves and seek out help when they have nowhere else to turn.
After developing the website and watching its success grow, the brothers are faced with the issue of how to develop a revenue-generating business model that meshes with their values.
"One of the biggest challenges we are currently facing in the development of My Life Secret is monetization; we are still trying to come up with a business model," said Philip Pirkovic. "Typically, websites make money off advertising, but since we don't offer advertising due to moral and ethical reasons, we are developing different outlets to help compensate for this."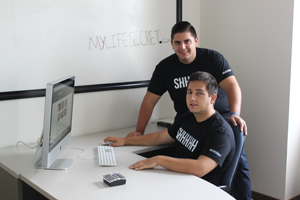 One of their cash producing projects is a My Life Secret clothing line. They are donating 20% of proceeds from their shirt sales to the National Suicide Prevention Lifeline.
Other outlets will include publishing a book full of secrets that haven't been posted, as well as speaking engagements. In the coming year, they plan to start the My Life Secret Foundation to combat bullying, suicide, and depression, and launch a mobile application.
Philip and Saso also feel very strongly about the revitalization of the struggling economy in Flint, and they want their ventures to reflect this sentiment. All promotional printing is being done in the Flint area, and the brothers are looking at office space along Flint's downtown Saginaw Street corridor.
"It is this kind of entrepreneurial activity that provides the best hope of the region's economy," says SOM Associate Dean Yener Kandogan, PhD.
Contact University Communications & Marketing with comments, questions, or story ideas.