More Filtered Water Fountains Added to UM-Flint Campus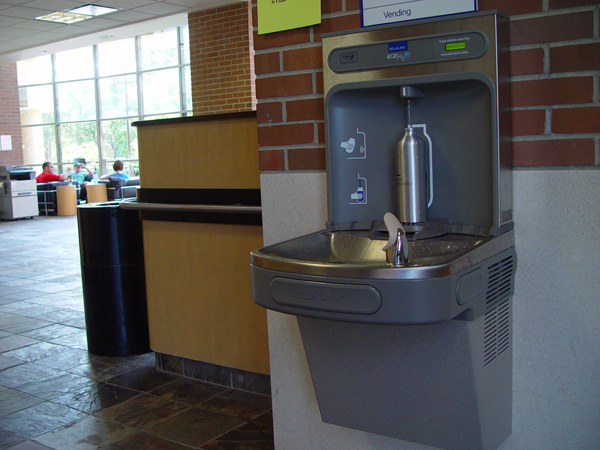 Three additional filtered water drinking fountains, with a water bottle refill feature, have been added to the UM-Flint campus.
Last fall, UM-Flint Student Government and the Facilities and Operations Department collaborated to install two of the fountains on campus-one of them located in the first floor University Pavilion (UPAV), and another one in University Center on the third floor. The newest fountain locations are:
– first floor William S. White Building (WSW)
– first floor Murchie Science Building (MSB)
– second floor Recreation Center (RecCen)
Tim Barden in facilities and operations says because of the success of the fountains, more locations are being planned. He said, "Our staff would like to install two more this year, one in the Thompson Library, and add a second one in the Recreation Building."
Former Student Government Vice President Albert Lee pushed for the new fountains after researching the growing concern over the use of plastic water bottles. He said he was inspired by a proposed ban on plastic water bottles urged by U-M Student Government in Ann Arbor.
Also last fall, Lee met with John Whitlatch, the general manager of dinning services to see what could be done to limit the use of plastic bottles on the UM-Flint campus. Since that time, Whitlatch says he cut the sale and use of plastic bottles by at least 60%.
Contact University Communications & Marketing with comments, questions, or story ideas.