Peregrine Falcons Atop UM-Flint Building Get Named and Banded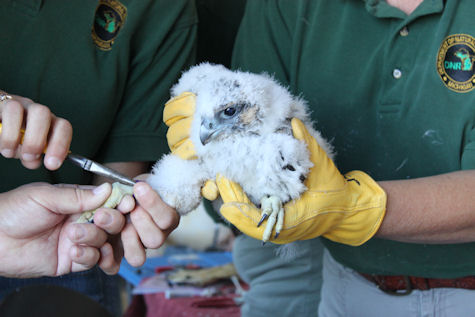 After an unsuccessful attempt at raising a family on top of the Mott Foundation Building in downtown Flint earlier this year,  peregrine falcons Majesty and Barry moved back to Northbank Center on the University of Michigan-Flint campus where three of four eggs successfully hatched in June.
A Michigan DNR wildlife biologist and other personnel captured the three chicks to band and give them a quick health check-up. The falcons are no strangers to the Northbank Center Building.  The Peregrine Falcon Nesting Coordinator for Southeast Michigan Christine Becher says this is at least the third time the pair has had a hatch on the building.
Banding the chicks will allow wildlife officials to identify the birds in the future.  According to their bands, Majesty is from Toronto, Canada, while Barry comes from Cleveland, Ohio.
The honor of naming the birds was given to two UM-Flint employees, who each named a chick, and the third chick was named by representatives of the Mott Foundation Building.
Assistant Vice Chancellor Bill Web selected Gabriella after his grandson Gabriel. Gail Novak-Phelps from Environment, Health, and Safety selected Anasazi.  Debbie Bullen from the Mott Foundation Building said they selected the name Ruth in honor of Ruth Mott, the wife of C. S. Mott. There already is a falcon named Mr. Mott.
Before each chick was returned to the ledge and an anxiously awaiting mother, they were given a dusting of bird lice powder.
Contact University Communications & Marketing with comments, questions, or story ideas.