UM-Flint Campus Remembers Stephen Landon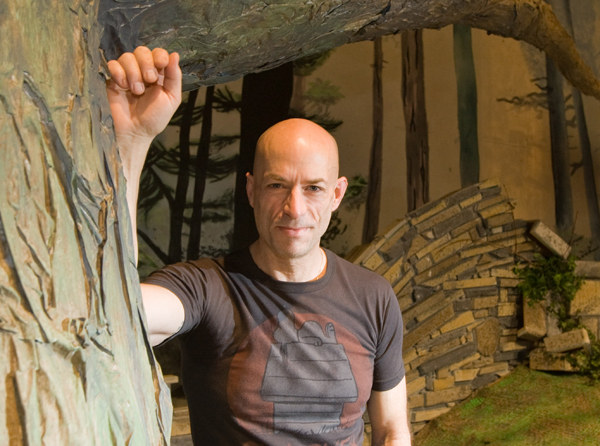 University of Michigan-Flint Associate Professor of Theatre Stephen Landon passed away Sunday evening, July 8, 10:26 (MST) in Rapid City, South Dakota. The cause of death was a recurrence of the brain cancer that he had survived for many years."Stephen Landon was an integral member of the campus and community, and his loss will be deeply felt," stated Chancellor Ruth Person. "I will always be grateful to him for the important role he played on the Commencement Committee. It was because of his outstanding work on the UM-Flint Commencement Committee that I had recently nominated him to serve as the campus representative for the U-M Bicentennial Celebration in 2017. He was talented and giving, and will remain an inspiration to all of us."
"Stephen was low key, quietly intelligent, dedicated first to the welfare of his students. He said no more than he needed to, and there was good reason for everything he said," recalls College of Arts and Sciences Dean D.J. Trela. "He also cared profoundly about the welfare of the University and the community it was part of."
He received an MFS in Scenic Design from Wayne State University in 2005, and a BS in Architecture –cum laude, from Lawrence Technological University in 2002.  He joined the UM-Flint faculty in 2005, and taught introductory and advanced Theatre Design courses as well as Scenic Painting, Modernism, AutoCAD, and was UM-Flint's resident Scene Designer.In addition, he was also the chair of the design program for the Kennedy Center American College Theatre Festival and in that capacity served on the National Design Committee for the Kennedy Center.
Professor Landon was active in theatre with groups around the country and was a strong proponent of bicycle activaties.He has numerous design credits with regional theatres in Michigan, Wisconsin, and South Dakota. In the spring semester, he taught a Study Abroad course in London, England that had an architecture design and fashion history concentration.
"He guided many students through our new design and technology program and graciously gave of his time to many university ventures," said theatre department chair Lauren Friesen. "His dedication to education and the art of theatre will leave an indelible mark on the lives of many."
As an advocate of bicycle based commuting on campus, he joined with fellow faculty member Jacob Blumner this past May, to host the first "Tour of Flint" bicycle ride that was so successful he was planning to make it an annual event.
His involvement on campus included joining with the commencement committee to take charge of transforming the Parani Arena and Event Center into a special place for the UM-Flint graduation ceremonies in December and in the spring.
Professor Friesen shared a comment from a former student on a course evaluation, which shows the respect he earned as a teacher: "This is a great course. I would fail it just to take it again!"
UM-Flint has set up a "Remembering Stephen Landon" website through which messages of remembrance may be left. Funeral arrangements have not been completed, but will be posted here when available.
Contact University Communications & Marketing with comments, questions, or story ideas.