UM-Flint Nursing Program Links with Alpena Community College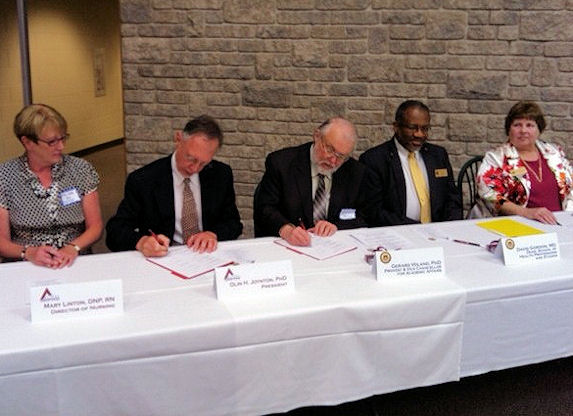 Alpena Community College nursing students can now complete a Bachelor of Science in nursing from the University of Michigan-Flint. Representatives from the two schools recently signed an articulation agreement, which enables ACC nursing program graduates to enroll in the UM-Flint nursing bachelor degree program. 
"The classes offered at ACC are in a mixed mode format, with online and on-campus courses," said Margaret Andrews, director and professor of nursing at UM-Flint. "We will provide opportunities for Alpena students to have face-to-face contact with UM-Flint faculty approximately every four weeks  by rotating classes between Flint and Alpena."
A major focus of the agreement is to increase opportunities for ACC nursing graduates to complete a Bachelor of Science in nursing. According to Andrews, about 50 percent of the nursing workforce has a BSN or higher; she would like to see that number jump to 80 percent by 2020. Andrews also called for the doubling of the numbers of those nurses pursuing a doctorate.
UM-Flint Dean of the School of Health Professions and Studies (SHPS) David Gordon said, "The agreement is a win-win situation that will help enable students to get the education they need."
Gerard Voland, UM-Flint provost and vice chancellor for academic affairs, said the ACC and UM-Flint faculty will be working closely to serve the needs of Alpena and surrounding area.
The signed agreement allows ACC students to transfer up to 34 ACC nursing credits to UM-Flint toward a Bachelor of Science in nursing.
For more information on the UM-Flint nursing program visit http://www.umflint.edu/nursing/.
Contact University Communications & Marketing with comments, questions, or story ideas.