UM-Flint Department of Nursing to Award Five Scholarships for Second Career Nurses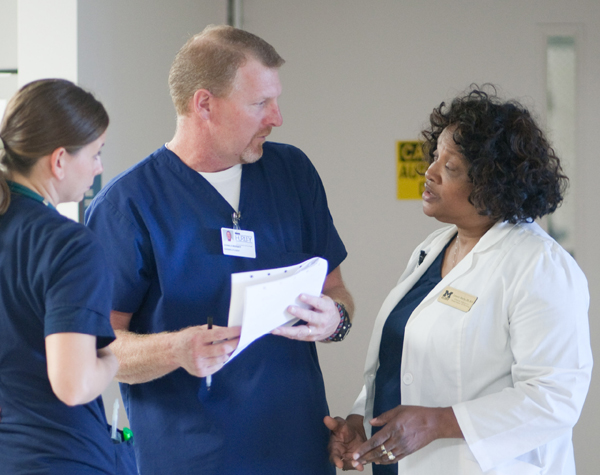 The University of Michigan-Flint Department of Nursing has been selected to receive $50,000 in grant funding from the Robert Wood Johnson Foundation New Careers in Nursing Scholarship Program (NCIN).
During the 2012-2013 academic year, the nursing department will provide five scholarships of $10,000 each to support students in the 16-month, accelerated second degree BSN program. The recipients will be from diverse backgrounds, and will include men who are traditionally underrepresented in the field of nursing and are pursuing a second career in nursing.
Students also receive other support to help them meet the demands of an accelerated degree program. All NCIN grantee schools are required to maintain a mentoring program for their scholars, and offer a pre-entry immersion program to help scholars learn test-taking, study, and other skills that will aid them in managing the challenges of the program.
The Director of the Department of Nursing Margret Andrews said her department is pleased to collaborate with the Robert Wood Johnson Foundation (RWJF) and the American Association of Colleges of Nursing on this innovative program.
"The New Careers in Nursing initiative will provide scholarships to students with diverse backgrounds who are pursuing a second bachelor's degree to launch a second career in a field with significant state and national shortages," said Andrews. "Those individuals selected for the scholarships will contribute significantly to the improvement of the health and well-binging of patients in our community. Upon completion of the 16-month accelerated curriculum, they will represent the diverse, culturally competent nursing workforce our state and our nation needs."
"We need a well-educated, diverse nursing workforce to provide quality care for our changing patient population," said David Krol, MD, MPH, FAAP, program officer for NCIN, RWJF senior program officer and team director of the RWJF Human Capital portfolio. "NCIN is strengthening nursing education and helping to fill the pipeline with capable, culturally-competent nurses."
Since 2008, the NCIN program has distributed 2,717 scholarships to students at 120 unique schools of nursing, including 400 in the 2012-2013 school year.
For more information about the UM-Flint's Department of Nursing's accelerated program, visit http://www.umflint.edu/nursing/Second_Degree/index.htm.
Contact University Communications & Marketing with comments, questions, or story ideas.