Board of Regents Approves UM-Flint Budget and Tuition Rates for 2012-13 Academic Year
The University of  Michigan Board of Regents approved the 2012/2013 fiscal year General Fund budget for the University of Michigan-Flint.  The total General Fund budget for the UM-Flint campus for the upcoming fiscal year is $98.4 million. While the new budget has no increase in state appropriations, it reflects $1.3 million in one-time performance funding for UM-Flint.
"Despite the challenges presented by the 15% cut in funding last year, I am pleased to see that the legislature is providing additional funding for higher education this year," said Chancellor Ruth J. Person. "The funding formula this year focuses directly on our efforts to improve both graduation and retention rates, and the high number of degrees awarded in health professions and STEM (science, technology, engineering and math) fields."
The Board of Regents also approved by a 5-3 vote,  a 3.6 percent increase in undergraduate tuition and fees, and a 2.8 percent increase in graduate tuition and fees for Michigan students at UM-Flint. A typical in-state, full-time freshman with 15 credit hours will pay an average of $4,757 in tuition and fees per semester in the coming year. The cost of tuition and fees for graduate students varies from program to program. By a 6-2 vote, Regents approved a 3 percent increase of the room and board rate for the First Street Residence Hall.  The new fiscal year budget also includes a 5.8 percent increase in institutional financial aid.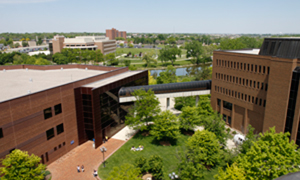 "We will continue to invest in student success at the university throughout the coming fiscal year," noted Person. "Through a combination of rigorous study, knowledgeable faculty, and a high level of support, UM-Flint offers students an excellent educational value."
The focus on student success was most recently reflected in the results of the Student Satisfaction Inventory at UM-Flint. The findings show that UM-Flint students are highly satisfied with the university, specifically the strong commitment to academic excellence.
Contact University Communications & Marketing with comments, questions, or story ideas.