Use of LED Replacement Lights Expanded on UM-Flint Campus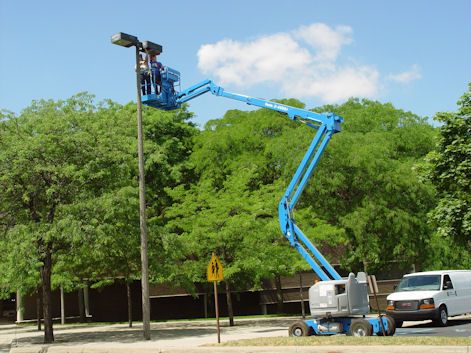 The University of Michigan-Flint campus will be brighter at night, and more energy-efficient with the continued addition of LED (light-emitting diode) lights.
Twenty-two of the new lights have been recently added to Parking Lot A (next to the Recreation Center). The horseshoe drive and other areas adjacent to the parking lot have also been switched over to LEDs.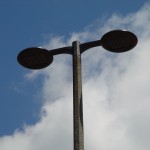 The on-going campus LED lighting project is already producing tens of thousands of dollars in annual energy cost savings. Besides the energy savings, the new lighting is expected to drastically cut maintenance costs.
An additional benefit is that the new lights are dark-sky compliant. There is no light pollution because all of the lighting is focused down.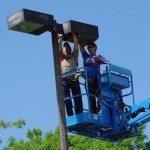 Tim Jagielo, UM-Flint Facilities and Operations electrician, was assisted by Facilities and Operations intern Jacob Rathbun with replacing the lighting.
Jagielo says the area in front of the library and outside of theatre will be the next to get the LED lights.
Contact University Communications & Marketing with comments, questions, or story ideas.