Winning Logo Design Wins Internship for UM-Flint Alumna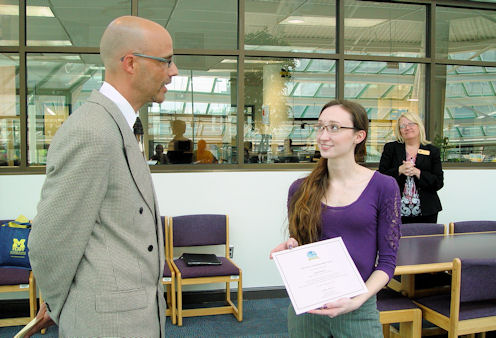 UM-Flint alumna Rachel Salazar has a great addition to her resume, thanks to the Michigan Civil Service Commission (MCSC).
Salazar, who graduated with a visual arts degree in April, entered a contest in December to design a logo for the MCSC internship program. Lecturer Janet Lorch urged her Graphic Arts class to enter the contest, and she also invited MCSC representatives to visit the class so students got a better understanding of what the commission does.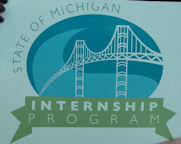 Salazar's design was selected from more than 25 entered. "I was so surprised. There are so many talented students in my class," she said.
For designing the winning entry, Salazar was offered a four-month internship with the commission.
As an intern, she was able to further hone her design skills by redesigning and branding all of MCSC's rack brochures. She also worked on the marketing and design for the promotion of Michigan HR Day, a major event organized through the MCSC.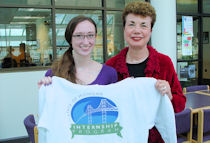 As a final thank you for her logo design, Salazar received a certificate and a sweatshirt that had her design printed on the front during a special reception at the University Pavilion. Bill Schmidt with the MCSC Office of Career Services came from Lansing to make the presentation.
Contact University Communications & Marketing with comments, questions, or story ideas.