Three Tillman Military Scholars are selected at UM-Flint
Three University of Michigan-Flint students have been selected by the Pat Tillman Foundation as Tillman Military Scholars for the 2012-2013 academic year.
UM-Flint student veterans Brandon Van Wagoner and Kelli McKinstry were selected in the latest round. Kyle Cawood will be receiving the scholarship for the second year of a three year scholarship.
Brandon Van Wagoner is working on a double major in Biology and Health Sciences. "The recognition consumed me with a feeling of honor, humility, and appreciation for all current and former service members," was Van Wagoner's reaction to being selected. "Having hailed from the small town of Fostoria, Michigan, I never could have imagined the influential opportunity to serve my country and be recognized by such a prestigious organization.  Although I no longer wear a military uniform, I am still able to serve my community through projects with the Student Veterans of America and by mentoring and leading veterans at the University of Michigan-Flint."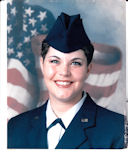 McKinstry, a business administration major, served six years in the Air Force. "The first reaction to being named a Tillman scholar was lots of excitement and tears," said McKinstry. "It is such a great honor to be a part of an organization like Tillman that is dedicated to helping the community and veterans.  I look forward to contributing to the Tillman Foundation through high academic standards, community involvement, and university activities."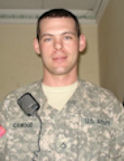 Cawood is a nursing major who served as an army medic in Iraq. "Brandon VanWagoner, Kelli McKinstry, and I have been involved in numerous projects on and off campus through our involvement in our local UM-Flint Student Veterans of America (SVA) chapter," said Cawood. "I believe the three of us will be exceptional additions to the Tillman Community and Foundation.  We all look forward to continuing our education and strengthening our community."
UM-Flint is one of 14 campuses serving as a Tillman Military Scholar University Partner for the 2012-2013 academic year. University Partners are selected based on their innovative service member-specific support services and proven culture of community for military families.
As a University Partner, each institution conducts outreach to its veteran and military spouse student population and actively participates in the Tillman Military Scholar selection process. Upon selection of Tillman Military Scholars on campus, each then supports the building of community among these students, strengthening their academic and personal experience.
"The University of Michigan-Flint has built a proud tradition of serving both the personal and academic needs of our military veterans. I congratulate our newest Tillman Military Scholars," said Chancellor Ruth J. Person. "We will continue to seek ways of expanding our commitment to making UM-Flint a welcoming community for returning vets."
In 2008, the Pat Tillman Foundation established the Tillman Military Scholars program to support educational opportunities for service members and military families by bridging the financial gaps left by the Post-9/11 G.I. Bill. Military families face numerous challenges during the transition from military to civilian life and have unique needs that often prevent successfully completing a degree. As a result, Tillman Military Scholars receive financial support to not only cover traditional study-related expenses such as tuition and books, but also other needs, including but not limited to: housing, transportation and childcare. In providing this support, the Pat Tillman Foundation aims to remove any and all obstacles that would otherwise prohibit academic success.
Over the past four years, the Pat Tillman Foundation has awarded more than $3.2 million in scholarship funds to 230 Tillman Military Scholars pursuing education at every level from freshmen undergraduates to PhD candidates. Overall, Tillman Military Scholars represent 71 different institutions across 34 states.
"We received 1280 applicants this year and, with support from our selection committee, narrowed these applicants down to 59 outstanding candidates to join the fourth class of Tillman Military Scholars," said Hunter I Riley, director of programs at the Pat Tillman Foundation. "These Scholars represent leadership in the military, classroom and community and we're proud to invest in their education and support them in making a positive impact into the future."
About the Pat Tillman Foundation
Family and friends established the Pat Tillman Foundation following Pat's death in 2004 while serving with the 75th Ranger Regiment in Afghanistan. Created to honor Pat's legacy and pay tribute to his commitment to leadership and service, the Pat Tillman Foundation is a national leader in providing educational support and resources to veterans, active service members and their spouses. Inspired by Pat's attributes of leadership, passion for education and spirit of service, the Foundation annually awards educational scholarships through Tillman Military Scholars program. To date, the Foundation has provided over $3.2 million in scholarships to 231 active service members, veterans and dependents. For more information, visit: www.pattillmanfoundation.org.
Contact University Communications & Marketing with comments, questions, or story ideas.