UM-Flint Students to Unveil First Habitat for Humanity Work/Live Home Built in the United States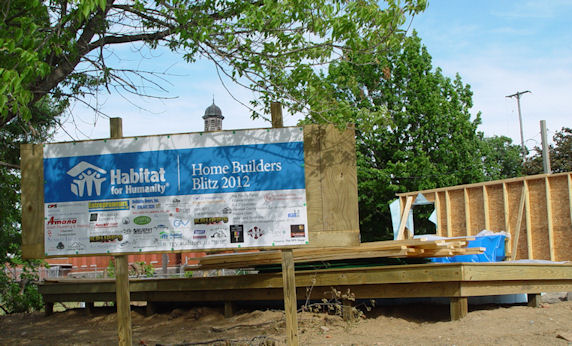 The University of Michigan-Flint Entrepreneurs Society and Genesee County Habitat for Humanity will unveil the first Work/Live Home in the nation on June 9.  
The Work/Live home contains both residential and commercial space, and provides the resident both affordable housing and an opportunity to become a self-sufficient small business owner.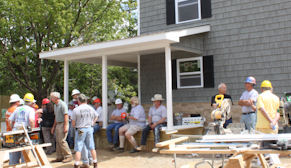 Construction of the Work/Live House started on Saturday, June 2, and it will be completed by Saturday, June 9, the same day a dedication is planned at 1 p.m. The house is located on west Fifth Street across from the White Horse Tavern.
The Work/Live concept came to fruition through a partnership with Genesee County Habitat for Humanity and the University of Michigan-Flint Entrepreneurs Society, a 109 member academic student organization, led by senior management students Gannon O'Reilly and Brooke Dziurman and founded by Entrepreneur in Residence and Lecturer, Michael Witt, Ph.D.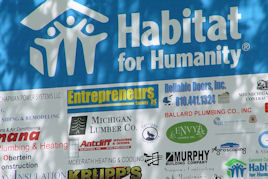 "The Work/Live Home concept plants economic seeds in the inner city. We know there are great opportunities for entrepreneurs in Flint, and this is one way to help locals access and grow these markets," said Witt.
The University of Michigan-Flint Entrepreneurs Society and Genesee County Habitat for Humanity joined forces in 2011 to develop a model to revitalize Flint's under-served neighborhoods. Together they conceptualized the idea for a brand new component to Habitat's existing framework and the Work/Live model was born. The partnership's mutual goal became to identify potential entrepreneurs interested in developing for-profit businesses and integrating them into a Habitat for Humanity home.
"It makes sense for downtown neighborhoods to have businesses and eyes on the street at all times to start to cultivate entrepreneurial opportunities and businesses for people", said Margaret Kato, executive director for Genesee County Habitat for Humanity.
This innovative concept provides improved community living by promoting affordable living solutions coupled with viable business support, creating additional jobs, and contributing to the overall economic and social revitalization of the neighborhood.
Patricia Moffet, an area photographer and artist, will be the first Work/Live resident and focus on growing her existing photography business. Moffet will display her work and partake in cutting the ribbon during the June 9 event.
"As young people receiving our education in Flint we are honored to be a part of this project. Providing someone with the opportunity for home ownership and to be a small business owner, that is the American Dream and we are excited to bring that to Flint." said Gannon O'Reilly, University of Michigan-Flint Entrepreneurs Society president.
There are six Work/Live Homes scheduled to be built in Flint over the next two years. The Work/Live model has received attention from Habitat for Humanity International, interested in adopting the concept as a nationwide model.
Construction of the home is part of the Habitat for Humanity's Home Builders Blitz 2012, and as part of the event, Steve Thomas, Emmy Award-winning television personality and former host of the home improvement shows "This Old House" and "Renovation Nation," will make a stop in Flint to view the construction process on June 5.
Contact University Communications & Marketing with comments, questions, or story ideas.