College Goal Sunday Helps Students and Their Families File for Financial Aid
College Goal Sunday was created to increase the number of students who continue education beyond high school and earn post-secondary degrees. The University of Michigan-Flint will be one of a number of locations around the state where volunteers will help college-bound Michigan students and their families complete the Free Application for Federal Student Aid (FAFSA) on February 12, 2011.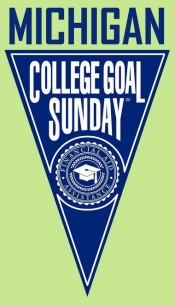 The UM-Flint College Goal event will be held in the Computer Lab, located on the first floor of the Murchie Science Building from 2-4 p.m.
Financial aid experts will be available to guide students and their parents through each step of completing and filing the FAFSA. Students under 23 years of age are encouraged to attend with a parent or guardian. Parents and students should bring their completed 2011 Federal tax return (1040) if possible, or their W-2 and 1099 forms.
If you are graduating from high school in 2012 or you're already in college, you need to submit the Free Application for Federal Student Aid (FAFSA). To get the most assistance for college, your FAFSA needs to be submitted by March 1.
Not sure about college? Apply for the money now and decide later. If you wait, chances are you'll get less.
Contact University Communications & Marketing with comments, questions, or story ideas.