UM-Flint Nursing Department Launches Simulation Laboratory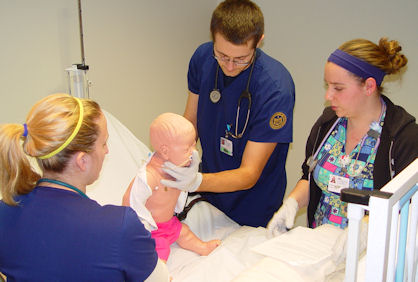 They are Human Patient Simulators (HPS) that can be programmed to test the skills of nursing students.  An adult and an infant HPS are the core of the new simulation laboratory created by the University of Michigan-Flint Department of Nursing.Assistant Clinical Professor Deborah Filos RN, MSN spearheaded the project.
"The educational benefits of skill practice through simulation of clinical experience are well documented in nursing education literature," said Filos. "In the past decade, clinical simulation has seen a proliferation of high technology classrooms utilizing life-like patient simulators that are transforming the way nursing skills are taught."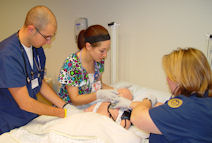 In early December, the first group of nursing students had an opportunity to work their way through a scenario developed by Professor Filos. Working in teams of three, the students were able to check "the vitals" of the infant HPS. Everything from blood pressure to breathing could be electronically controlled to challenge the students' skills.
Nursing student Sam Martin said working on the HPS provided a unique opportunity. "We can apply and practice what we learned in the classroom without harm or risk to the patient."
UM-Flint Director of Nursing Margaret Andrews sees a variety of advantages for using the simulators.
"Simulations assist with the already overcrowded, hard-to-get clinical sites, and many state boards for health professions disciplines now allow some simulation experiences as clinical time," noted Andrews. "Research reveals that students learn faster and develop more confidence in their clinical abilities when they've participated in simulated teaching-learning experiences."
Besides working with the infant HPS, students had to get information on their patient by calling various hospital departments. Clinical Assistant Professor Maureen Tippen role-played everything from the child's less-than-cooperative mother to lab and x-ray staff.
"This has been very educational," said student Megan Woityra. "It is preparing us for the challenges we'll find in the clinical setting."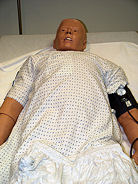 Because of its importance to the program, the nursing department decided to proceed with the simulation lab without much of the funding that was being sought. Two funding sources were used to purchase the Human Patient Simulator according to Andrews.
"The simulators and patient scenarios were made possible through two competitive awards to the Department of Nursing, one from the Technology Fee Committee,  and the other from the Thompson Center for Learning and Teaching."
Andrews sees an opportunity to share HPS units that could include inter-professional teaching-learning, e.g., nursing, radiation therapy,  and physical therapy students will be able to focus on simulated patient scenarios in which the contributions from each discipline come together synergistically to resolve the patient's health problem(s).
To add a more human touch to the simulators, the nursing department will sponsor a contest and ask students to suggest names, and a faculty/student panel will make the selection from among the submissions.
Contact University Communications & Marketing with comments, questions, or story ideas.