UM-Flint Engineering Students Help Light Holiday Tree With Solar Power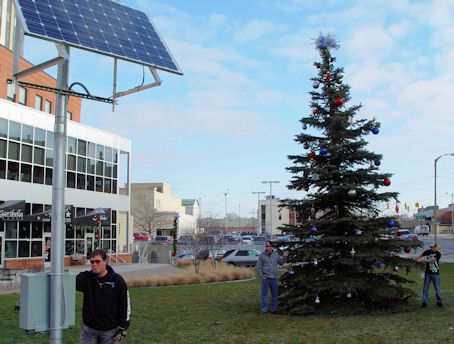 What does New York's Rockefeller Center have in common with downtown Flint? Both are using solar power to light their holiday tree. UM-Flint mechanical engineering students helped with the downtown Flint project.
The student involvement with the project started when professor of mechanical engineering Quamrul Mazumder invited Howard Croft, president and CEO of  Mid Michigan Solar, to do a presentation to students on renewable energy. The students were invited to help with the upgrading of the original solar lighting equipment.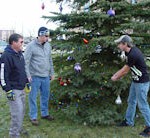 "We spent a lot of time doing calculations on the batteries and the solar panel, lots of math," said Curtis Flinn, a mechanical engineering student. "It also gave us an opportunity to see what career opportunities are available after we graduate."
Croft said his company is in a unique position to help students get the experience they need for a career in solar energy.  He wants to assist the students to find jobs that will keep them in the area.
The project was part of a new renewable energy course that was offered through the mechanical engineering program.
"This is the first time we offered the course," said Professor Mazumder. "It was needed to meet the increasing demand for engineers with experience in the areas of solar and wind energy. "
By involving students in the project, they learned about active and passive solar energy systems, and gained experiential learning by designing and installing the solar powered holiday tree in downtown Flint.
One of the mechanical engineering students is getting more than class credit for the project. The company liked his work and has since offered him a job.  He sees the offer as an opportunity to explore a career path that he hadn't considered before.
The mechanical engineering students are involved in a wide range of renewable energy studies. Some have worked on designing a geothermal system for the UM-Flint Urban Alternative House, while others are evaluating the energy efficiency of HVAC diffusers installed in the engineering lab at the Murchie Science Building.
"The engineering program is planning to offer more courses in renewable energy during next year to prepare our students for a growing market demand," said Mazumder.
Genesee Regional Young Professionals provided the tree, and Mid-Michigan Solar provided the solar equipment.
Contact University Communications & Marketing with comments, questions, or story ideas.