Speakers Selected for UM-Flint's 2011 Winter Commencement
Main Speaker: Dr. Michael C. Boucree, MD, MPH, FACP, CPE
Dr. Michael Boucree is a University of Michigan-Flint Maize and Blue recipient. He received the award in 2009 while graduating with a Bachelor of Science in Performance (Piano).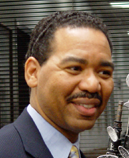 Like many UM-Flint students, Dr. Boucree worked on his degree while maintaining a demanding full-time career at Hurley Medical Center. While he selected medicine for a career, he has always had a love of music. He was the high school Drum Major at De La Salle High School in New Orleans, La.
Dr. Boucree attended Xavier University of Louisiana where most semesters he was on the Dean's List.  He was president of Alpha Epsilon Delta Premedical Honor Society, graduated magna cum laude, and received Xavier's highest student award, the Mother Katharine Drexel Award for academic excellence and service to the university. He received his medical degree from Tulane University School of Medicine, and a Masters of Public Health from Tulane's School of Public Health and Tropical Medicine. Upon completion of an internship and residency in Internal Medicine at DC General Hospital in Washington, DC with the Howard University Medical Service, where he was awarded the Intern of the Year Award, Dr. Boucree served as Internist and Medical Director of Hamilton Family Health Center in Flint, Michigan to complete his obligation as a US Public Health Service National Health Service Corps Scholar for four years.
Over the next 20 years, Dr. Boucree joined Northwest Medical Clinic in Flint as an Internist, and became the managing physician of the practice while concurrently holding positions and responsibilities as the Chief Physician Advisor for Utilization and Case Management at Hurley Medical Center, Medical Director for Heartland Nursing Home, and Medical Director for the Hurley Medical Group (Practice). He assumed increasing roles of administrative responsibility at Hurley Medical Center, and eventually was named Vice President for Outcomes Management/Chief Quality-Patient Safety Officer.
Among his many achievements, Dr. Boucree is a Certified Physician Executive, and is a Fellow of the American College of Physicians.  He has served as the President of the Genesee County Medical Society, has received the highest honor bestowed upon physicians by Hurley Medical Center, the Pinnacle Award.  He served as Vice-Chair of the Genesee County Board of Health, Vice-Chair of the Flint Cultural Center Corporation, member of the Advisory Board of the UM-Flint School of Health Professions and Studies, and Board Member of the Flint Institute of Music.
Dr. Boucree is currently the Vice President of Medical Affairs at Ochsner Medical center-West Bank, New Orleans.
For more of Dr. Boucree's story and his music, watch this UM-Flint YouTube video:
Student Speaker: Eric Rose
Like a growing number of UM-Flint students, Eric Rose decided to join the military before starting working on his political science degree.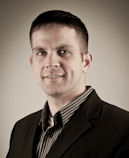 "I selected political science due to my great interest in government structures organizations and procedures,' said Rose. "I have always been interested in the initial causal needs for the formations of government, whatever the structure maybe, and the influence that citizens may have, or not have for that matter."
After graduating from Carman-Ainsworth in 1999, he entered the Army where he served as an Airborne Ranger and an Infantryman.  He was honorably discharged in 2003, but didn't have the funds to start his university career. To earn the money, he spent three years in Iraq with a security contractor. He would start work on his degree at UM-Flint, but again run out of funding, and join up with Blackwater Security in the Middle East for two years.
Rose's reasons for selecting UM-Flint included having a number of friends who attended, location and, "most importantly, the smaller campus of the University of Michigan-Flint offered a greater chance of a more personal learning experience. To me, the ability to engage the faculty on a more personal level encourages higher levels of achievement. I cannot think of a single class where I was not impressed with the availability and expertise of the faculty.  "
Rose plans on using his degree in the field of operations intelligence in the Michigan Air National Guard while continuing his education at the graduate level. However, before starting his graduate work at UM-Flint, he will attend Air Force Operations Intelligence technical school.
Contact University Communications & Marketing with comments, questions, or story ideas.