School of Management Move Expands Campus Footprint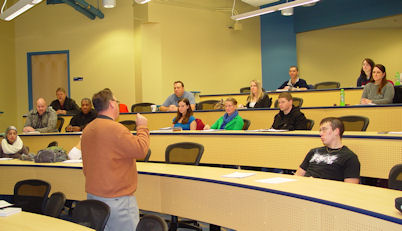 The University of Michigan-Flint School of Management (SOM) has moved from the William S. White Building, and began the New Year in the Riverfront Center on January 3, 2012.
The school now occupies about 27,000 square feet on the second floor of the center. The building is located directly across from the University Pavilion on the Westside of Saginaw Street.
The newly remodeled space has provided SOM the opportunity to add many new features. Among other things, they include a finance lab with interactive displays and a video classroom for instructional purposes. Breakout rooms will be accessible for students to meet in groups. There will be a designated student organization office area, and a graduate student workroom. A computer lab for SOM students will be open 24/7. The student lounge area overlooks the Flint River and Riverfront Center atrium.
A "Grand Opening" is planned for late March.
Check out ABC 12's coverage of SOM's first day of classes at Riverfront Center.
Contact University Communications & Marketing with comments, questions, or story ideas.