Committed Faculty Help UM-Flint Chem Club Achieve National Recognition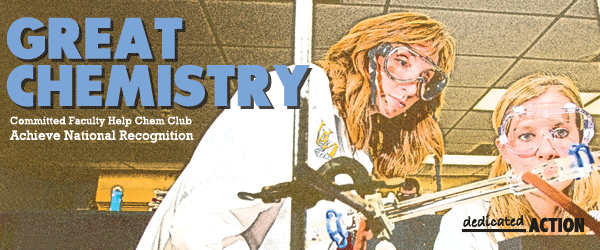 The University of Michigan-Flint Chemistry Club has received the highest student chapter recognition from the American Chemical Society (ACS).  This is the third time the club has been selected for an Outstanding award and the 10th ACS recognition since 2002.
The ACS recognizes successful student chapters for conducting exceptional programs and activities during the academic year. Awards are given in three categories: outstanding, commendable, and honorable mention.
According to UM-Flint Chemistry Club President Caitlin McCarthy, "The Chem Club has meant a place where I get to do the things I love: teach, learn, and volunteer."
The ACS asserts that the difference between student chapters that stand out and the rest starts with organizing a variety of successful activities. Successful chapters engage in valuable programs that impact members, their chapters, the Student Affiliates Program, the public, and the greater chemistry community.
Nominations for ACS Student Chapter Awards are based on exceptional activities, programs and initiatives described in chapter reports.
"We have been lucky and have had very dedicated officers and members who are willing to volunteer their time and effort," said Chemistry Club Faculty Advisor Jessica Tischler. "They work very hard to make each event we do a success. Over the years we have had a lot time to test events to see what works and what doesn't work."
The ACS selected 36 chapters for the Outstanding award for the 2010-11 academic year.  The list will be published in Chemical & Engineering News and inChemistry, the student member magazine.  The club will receive the award at the 243rd ACS National Meeting in San Diego, CA next March.
In announcing the award, ACS president Nancy Jackson commended UM-Flint Chemistry & Biochemistry Professors Tischler and Monique Wilhelm, co-faculty advisor, for their commitment to making the club successful.
McCarthy enthusiastically agrees. She said, "Dr. Tischler and Monique do an excellent job of motivating us and always hold us accountable for our actions. They consistently push us to reach the highest expectations, but are there for us when we fail and know when to stop pushing us and begin to console us or teach us a hard-learned lesson. I have become very close with both of them over the past two years and will miss them dearly when I graduate."
Contact University Communications & Marketing with comments, questions, or story ideas.