Neubacher Recipient Richard Bernstein to Speak at UM-Flint
As part of the observance of National Disability Employment Awareness Month, the University of Michigan-Flint will host noted Michigan attorney Richard Bernstein, a U-M alumnus who has been selected as the recipient of the 2011 James T. Neubacher Award.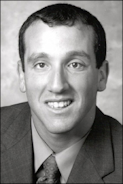 The award, to be presented on Oct. 28, honors members of the U-M community (faculty, staff, students or alumni) who have demonstrated exceptional leadership in enabling full participation in programs and services by people who have disabilities; promoted acceptance and awareness; advocated for civil rights of people who have disabilities; and demonstrated a commitment to the concept that all people, regardless of disability, have the right and obligation to be full and contributing members of society.
Campus and community members are invited to hear Bernstein's presentation on Wednesday, Oct. 26, 11 a.m., Michigan Rooms C and D.
Among his legal accomplishments, Bernstein successfully partnered with the U. S. Department of Justice to force the City of Detroit to fix broken wheelchair lifts on its buses, is working to make Detroit Metro Airport more accessible to travelers with disabilities, and he fought the State of Michigan and won to preserve special education funding throughout the state.
His appearance at UM-Flint is sponsored by the Committee for Disability Concerns, and the Office of Accessibility Services, a unit of the Division of Student Affairs.
The event is free and open to the public. For additional information, call 810-762-3456.
Contact University Communications & Marketing with comments, questions, or story ideas.