UM-Flint Alum Digs Brighton Township's Rural History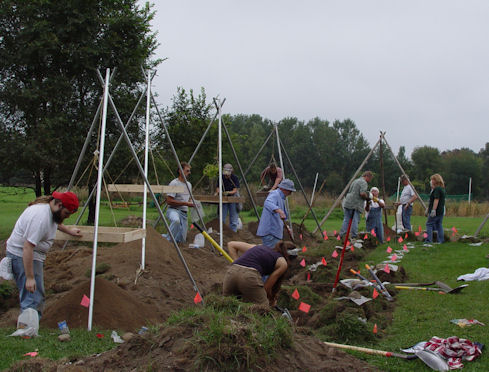 Tim Bennett is spending a lot of time on an archeological dig at a farm in Brighton Township. Bennett, a '95 UM-Flint graduate, has a double major in history and anthropology with a minor in computer science. His dig site holds a special meaning to him."The farm was started by my great, great, great grandfather, Timothy Warner, in October 1841 with the purchase of 80 acres of undeveloped land for $384," said Bennett. "The farm is the only certified sesquicentennial farm in Brighton Township, and one of just four in Livingston  County."
Bennett believes the site is likely to be one of the few, if not the only historic period site in Michigan, to be excavated by a direct descendant.  As such, it has allowed for nearly unprecedented research to be conducted on the history/genealogy that includes family heirlooms, stories, pictures, interviews, and more in combination with archaeological fieldwork to provide a more complete family story spanning from the earliest pioneer era to today.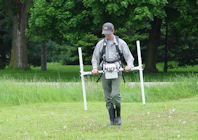 The investigative techniques at the site and on recovered artifacts will be discussed at a special presentation of his work on Wednesday, November 9th at 6 p.m. in UM-Flint's Michigan Room C. Topics to be included in his presentation are: mass spectrometry, remote sensing, soil analysis, blood residue analysis, dendrochronology (tree ring analysis), and Scanning Electronic Microscope imaging. The results of these tests will be presented, as well as how they compliment more traditional archaeological research and methodology. Displays of artifacts will also be brought for viewing and discussion.
"Chemistry/biochemistry is becoming much more integral to archaeology than previously," said UM-Flint Chemistry Department Chair Bob Stach. "As a matter of fact, I believe to be a good archaeologist today, one should know some chemistry, at least up to analytical chemistry and biochemistry."
Bennett's presentation is being co-sponsored by the UM-Flint Department of Chemistry & Biochemistry and the American Chemical Society.
Bennett, who is serving his fourth consecutive term as president of the Michigan Archaeological Society Saginaw Valley chapter, has helped open his family's farm site to a variety of students from around the state. Undergraduate and graduate students from area universities have assisted on the dig, including those from Eastern Michigan University, Albion College, and the University of Michigan.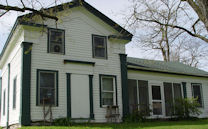 "As part of our public outreach initiatives, we have also hosted a high school group from Brighton and a class of 6th grade students from Grosse Pointe Woods this year. Family members, neighbors, friends, and members of the Michigan Archaeological Society have also assisted on the dig," said Bennett.
The largely unmodified 1855 Greek Revival home was listed on the National Register of Historic Places in September 2011, a prestigious designation awarded by the U.S. Department of the Interior National Parks Service.
The 170th anniversary of the farm and the 175th anniversary of the Warner family living in Brighton Township were celebrated this year. In all, nine generations of the Warner family have lived in the Brighton area.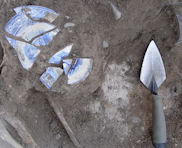 While employing various scientific techniques, Bennett admits some of his great successes came in rather strange ways. "The area yielding the highest concentration of artifacts was found by the collaboration of my 3 1/2 year old daughter, a Siberian Husky, and a ground squirrel. More on that at the presentation," he laughed.
Contact University Communications & Marketing with comments, questions, or story ideas.