UM-Flint Students and Faculty Research Grand Blanc's History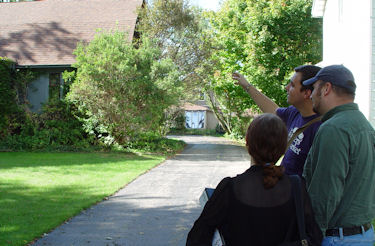 If you live in an older house, you may have wondered who lived there before you moved in. UM-Flint students are currently working in the archives of the City of Grand Blanc Heritage Museum and older city neighborhoods, doing research that will identify who lived in or actually built some of the houses that date back to the 1800s.
The Grand Blanc Historic Resource Survey is a research project jointly conducted by Thomas Henthorn of the Department of History and Greg Rybarcyzk of Earth and Resource Sciences. In March 2011, the city of Grand Blanc hired Professors Henthorn and Rybarcyzk to conduct an investigation of historic structures in the city. The result of this investigation will be an inventory of historic properties and maps that detail the location of structures and historic neighborhoods. These types of surveys are used by local governments as a planning tool. By locating historic properties and places within a municipality, local governments are better prepared to protect historic places.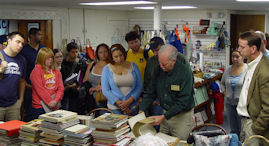 For the next year, students from UM-Flint will be in Grand Blanc conducting archival research and field work to trace the genealogy of the historic homes and structures.
"This is a great way to get research experience by being able to get out of the classroom and work closely with your classmates," noted history major Renee Gonzales. "It's a unique perspective on history, and definitely a unique class."
History Major Jason Lorenz says he is doing something that matters, and the research will produce results that can be shared with many other people.
"So much of what we learn is from other people's papers," according to Lorenz. "When you do your own research, with each step you find something new, and you become more interested in it."
"We are providing experiential learning opportunities for students in a number of ways," remarked Henthorn.
Some students are being employed as student researchers through the Undergraduate Research Opportunity Program from the Office of Research. Other students are aiding in the survey through coursework such as the class assignment in Henthorn's "Introduction to Historic Preservation." In both cases, students visit a variety of archival repositories such as the Genesee County Register of Deeds, Grand Blanc Heritage Museum, or Flint Public Library. Students then conduct fieldwork to photograph properties and record their physical features.
Beginning in January, students from Earth and Resource Sciences will begin creating maps based on the research conducted in the fall.
The contract is being funded by a Community Foundation of Greater Flint Grant.
Contact University Communications & Marketing with comments, questions, or story ideas.